Residents, Businesses Ask If Industry, Homes Can Coexist in Otay Mesa
Monday, April 16, 2007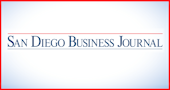 San Diego is faced with a shortage of industrial sites, now that the other lands in the county are scarce.
Many officials believe more land could be zoned industrial in Otay Mesa, but the Otay Mesa Community Plan update now under consideration may convert land available for industrial into residential.
"Otay Mesa's industrial lands are some of the only remaining large parcels left in San Diego County that can accommodate industrial business," said Alejandra Mier y Teran, executive director of the Otay Mesa Chamber of Commerce.
As of late last year, only one-fourth of sites zoned industrial were still vacant, with two-thirds of the total located in Otay Mesa, according to the chamber.
Officials are reviewing three proposed scenarios to update the community plan. Each proposes to convert some of the industrial lands to residential.
A Third Scenario
Two include co-location of residential developments with industrial in both the western and eastern areas of Otay Mesa. The third would concentrate most residential development on the west side near industrial zones.
Mier y Teran said she has several concerns with having residential and industrial zonings so close together.
"There needs to be some exclusionary zone for industrial development, where businesses can feel comfortable and don't need to worry about incompatibility between residential developments and industrial developments," she said.
The chamber has expressed fears regarding truck routes next to residential areas for several reasons, including negative impacts on international trade, the safety of having trucks so close to pedestrians, and health issues associated with truck exhaust.
The chamber does see the need for housing, however.
Putting housing in the west, segregated from industrial development, makes sense to Mier y Teran.
"There are so many questions that need to be addressed, that have not been addressed to ensure we can coexist," she said. "Can we coexist with a geographic separation? We are already doing that today and I think we can do that in the future."
Under the original community plan, the city zoned 30 percent of Otay Mesa's 9,300 acres industrial, according to the chamber.
While this was a substantial amount 25 years ago, growth of manufacturing, because of Otay Mesa's proximity to the Mexican border and ports, has reduced the number of sites for future industrial growth.
Building Together
Rob Hixson, chairman of the Otay Mesa Planning Commission, stressed the importance of building residential and industrial together.
"Originally when this whole community plan started, I wasn't really hot on the idea of having residential in the industrial area either, but when you start to figure out how long it will take to get the infrastructure put in, if it was just pure industrial, it would take forever," he said. "And so it is a lot better to have negotiation and have some of these mixed uses in the community plan that would get this infrastructure for trucking and roadways in much quicker."
He said the Planning Commission's goal is to get many viewpoints heard in the updated plan. Numerous community meetings have been held where residents have given their opinions.
CJ Stos, development manager of San Diego County for Master Development Corp., is not certain residential and industrial zonings can coexist.
"It has been proven in certain markets that residential and industrial real estate can coexist," Stos said. "I am not convinced that Otay Mesa is one of those places yet."
Master Development, which started developing in Otay Mesa in 2000, has since developed or acquired more than 1 million square feet of industrial real estate near the border.
The Newport Beach-based company is developing Three Piper Ranch, a two-building project totaling 333,000 square feet in the Piper Ranch Business Park at the intersection of Otay Mesa Road and the new state Route 125 toll road.
Imperial Toy Corp. of Los Angeles has already signed a lease to move into 150,000 square feet of space at Three Piper Ranch.
Master Development also owns Britannia Crossings, a 16-unit industrial condo development off Airway Avenue and Britannia Boulevard, and it is working on entitlements for the development of a single 350,000-square-foot, big-box industrial building on Otay Mesa Road and Ailsa Court.
Even without a community plan update in place, Stos said he believes in the strength and opportunity of the industrial market in Otay Mesa because of the housing development and competitive industrial rents and price per square foot.
"We have no reason to believe we should change our strategy in Otay as momentum has been strong," he said. "Otay Mesa had the most industrial absorption compared to any other market in San Diego with over a million square feet in 2006."
On The Fast Track
And with state Route 125 completion expected this year from state Route 905 to state Route 94, Stos expects the industrial market to grow even faster.
"The 125 will allow direct access to Otay Ranch and Eastlake where over 40,000 new homes are master planned," he said. "We believe once the 125 is finished we will start to see more companies coming to Otay Mesa because (it) will have direct access to both blue-collar labor and housing for senior executives."
Burnham Real Estate reported that Otay Mesa accounts for more than half the county's building activity.
Charles Adolphe, vice president of Burnham Real Estate, said Otay Mesa has a few thousand acres of vacant land in various stages of entitlement, mostly zoned industrial, but most of that land cannot be used for various reasons, including lack of sewer lines and roadways to support additional traffic.
He added that there is also more industrial opportunity in Otay Mesa because of higher vacancy rates than in other parts of San Diego.
"There is certainly an opportunity in Otay Mesa," said Adolphe. "If a business needs to be in San Diego County and needs 100,000 square feet or 200,000 square feet, the only place to maybe find that is in Otay Mesa."
The Planning Commission is expected to present community plan update recommendations to the city's land use and housing committee and City Council by year end.