Scripps' Campuses Make Strides Toward Achieving Balance of Power
Monday, April 9, 2007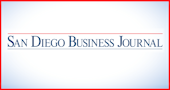 One of Chris Van Gorder's notable innovations as chief executive officer of Scripps Health was the creation of the Physician Leadership Cabinet, which provides a forum for doctors to share their views and air their grievances.
"We have accepted 100 percent of the recommendations coming out of the cabinet," said Van Gorder.
By the same token Van Gorder told the doctors, "I can't take power away from the board of trustees. I am willing to share, but not abdicate it."
"There may come a situation where I have to go in a direction different than what physicians would like," he explained.
Brent Eastman, chief medical officer at Scripps Health, serves as co-chair of the 16-member cabinet, which is comprised of elected members from the Scripps campuses , five hospitals plus Scripps Clinic and Scripps Mercy Medical Group.
"You can't have a health care system without highly qualified physicians, and physicians can't survive without a viable health care system," he said. "I think we have succeeded with PLC, and have become an example for other health care systems around the country."
Unlike the contentious days of that no-confidence vote, said Eastman, the doctors have a different environment at Scripps today.
"We meet every month, and we have 100 percent attendance every time," said the veteran surgeon who joined Scripps in 1972. "The PLC has provided a forum to put issues on the table with utter transparency. The cabinet knows that they can ask any questions of Chris or me or the chief financial officer, and everything gets discussed, so this becomes a totally informed group of physician leaders."
A Crown Jewel
Eastman considers the PLC the "jewel in the crown" of what Van Gorder has done with physicians.
"Chris is absolutely sincere about meeting with them and answering their questions, taking their input and asking them to give thoughtful consideration on difficult issues," he said.
Some of those issues have been "contentious," Eastman admitted, including the question of how to fairly compensate physicians for taking emergency calls in trauma centers.
"In the past, when malpractice suits were less, when there were an adequate number of physicians, they would take calls in the ER," said Eastman, recalling that many young doctors back then did so in order to hone their skills.
"That has changed," he added. "Reimbursement is down, and it is often an onerous task for physicians to take emergency coverage, because they might not be paid, and they might be up all night. We had to come up with a system that was fair and equitable."
The PLC first tackled the issue about six years ago, said Eastman.
"Chris said, 'We have X number of dollars to spend. I will take whatever recommendation that you give me to the physicians, but recognize that the money has to come from somewhere else.' "
When the physicians were told that the extra money would have to come at the expense of the nurses' raises, they agreed to a lower rate, said Eastman.
"It was discussed in subcommittee, they polled their members, and did research to come up with a number that they thought was fair," he said. "I thought that it was a brilliant solution. It has sustained us."
Now, the issue is back on the table, and another subcommittee is trying to come up with a solution that is just as fair and equitable, given the state of health care these days, said Eastman.
One of the main challenges, he said, is "a perfect storm of physician shortages."
"We have a physicians' shortage in this country that many people are unaware of," said Eastman, estimating that there could be a nationwide shortage of about 200,000 doctors in the next decade.
"Today, we have an absolute shortage, particularly among specialists," he said. "Reimbursement continues to be ratcheted down for physicians, coupled with the issue of malpractice, and lifestyle changes of the young physicians are coming out today. They are not going to work the same number of hours as the generation before them did. The upshot is a shortage of physicians."
Duane Dauner, president and CEO of the California Hospital Association, agreed.
"Fifty years ago, running a hospital was a second-tier management responsibility," he said. "Today, managing a hospital system is very high-pressure, requiring top-tier management, business challenges and relationship obligations. It's almost a totally different world. I have never seen such a confluence of forces as they exist in California today."
Statewide Perspective
Dauner gives high praises to the Scripps turnaround.
"Chris Van Gorder was able to do several things , develop close working relationships with physicians, get contracts that were more attune to the way hospital care was being rendered, and get hospitals out of the position of being in a lose-lose risk position that existed in many instances," said Dauner. "He came in and was able to get that kind of turnaround. Chris has done a good job of meeting his public obligation."
But Dauner recognizes that there are no quick fixes.
"An organization the size of Scripps is not turned around overnight," he said. "It takes all the moving parts working together, with the vision of the board, management, medical staff and employees, and re-engineering yourself while you're still going. It's like changing a tire on a car that never stops. He has done a very good strategic job of keeping all of those balls in the air and, at the same time, preserving the integrity of the organization, as well as the delivery of high-quality health care in that process. That is a big challenge."
Healing Process
There were other challenges facing Van Gorder.
"We were too highly centralized, and too many decisions were made in the corporate office," he recalled.
So, he decentralized the system, placing key personnel at each of the campuses.
"It was extremely well received by everybody," said Van Gorder.
But he still had to deal with other problems, including strained relationships among employees.
"We were shocked at how bad they were," he said. "We had some supervisors with more than 100 direct reports. We reduced that, so when employees had a challenge, they could get hold of a supervisor."
Respecting all of his employees , regardless of their level in the organization , is another lesson Van Gorder learned early on, working in hospital security.
"I remember seeing the chief executive, when we were in the basement," he recalled. "He came along, and I thought, 'Here is my chance.' But he walked on by without even acknowledging my existence. It struck me then. If something bad happens, they wouldn't call him. They'd call me. No matter what level, you play a critical role, and you need to acknowledge people."
Van Gorder didn't expect overnight success, but gradually began the rebuilding process with his management team, the physicians' cabinet and board of trustees.
"If people know what is expected of them, they will deliver for you," he said. "There is an enormous passion among health care workers, but you can't overwhelm them."
In agreement is Abby Silverman, a partner with the law firm of Baker & McKenzie, and a former chair of the Scripps Health board of trustees.
"He is an effective leader for many reasons," she said. "He empowers people, but he requires accountability. He is transparent. No one who works for him or around him has to guess at what he wants. He confronts crisis and issues immediately, fixes them first, and then tries to figure out what happened. He has a real vision for the organization and its place in the community."
Steve Escoboza, CEO of the Hospital Association of San Diego and Imperial Counties, has known Van Gorder for half a dozen years.
"He is clearly a visionary," said Escoboza. "He's the type of leader who learns from what he sees and incorporates improvements in his own system and shares those with others. It's one thing to be a visionary, and another thing to do something with it. People truly respect him."
But, Van Gorder admits that he had to hone those skills.
"I was a terrible micro-manager early on," he said. "But I found that people make good decisions if you just leave them alone."
Another of Van Gorder's innovations was the creation of Scripps Leadership Academy, designed to help hone the skills of middle managers.
"I grew up in this business and held every management position there is," said Van Gorder. "It can be frustrating to be a middle manager and know you have enormous responsibility to people, but no clout. It's the hardest job in the company. I wanted to create opportunities for middle managers, and let them see behind closed doors how decisions are made."
One goal of the academy is to foster a sense of unity among the diverse campuses, while preserving their individual characters, he said.
"We have so many different cultures, but no umbrella culture," Van Gorder explained. "For our organization to be successful, we didn't need to eliminate them, but create this umbrella culture. This takes time to develop, and they are my agents."
Challenges Ahead
Another big change that Van Gorder made in his organization was to stop outsourcing advisers.
"We were spending a fortune on outside consultants," he said. "They come, give you some document telling you what you should do, and leave. They never ask if it works or not."
So, Van Gorder started casting a wide net for consultants who wanted a home base at Scripps.
"I found a whole group of them and brought them inside," he said. "We worked together to find solutions to operational problems. They worked as a management team and measured long-term results. I'd rather have slow, incremental growth."
Scripps posted an operating margin of $129 million in 2006, representing a $108 million turnaround in a five-year period , the most dramatic in its history, according to the corporation. But, the challenges continue. Van Gorder is spearheading a $1.6 billion campaign to upgrade Scripps' facilities and technology over the next decade, and meet state-mandated seismic standards.
"We are building a new generation of health care system," he observed.
Silverman said that she is impressed by Van Gorder's business savvy.
"He has a substantial knowledge of the health care industry that is deep and vast," she said. "This is very hard to master, because it is a very complicated business."
Van Gorder also is getting help from the likes of Silverman, as well as other former board members who are serving on an advisory committee he created.
"For those of us who have been through the turnaround, and came out of it, we have an appreciation of the issues," said Silverman. "It makes us an alumni class that is unique. I would not hesitate if Chris asked me to do something. He elicits that sort of loyalty."
Meanwhile, Van Gorder is encouraged by Gov. Arnold Schwarzenegger's ambitious plan to expand health care to all Californians, but noted that, "Some elements of his plan are creative, others won't work."
Still, he gives the governor points for recognizing that there is a health care crisis.
"Hospitals and doctors are at the end of the food chain and always get blamed, but we didn't create the system," said Van Gorder. "All of the parties will have to come up with solutions. We applaud that he concedes that all of the parties will have to concede a little bit."