Ex-Cop Deserves Badge of Honor for Scripps Health Reforms
Monday, April 9, 2007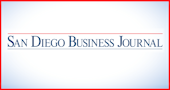 Chris Van Gorder tried to avoid the impact, furiously jamming his squad car in reverse. But it was too late. The distraught woman hit him head-on with her car, fracturing his bones, severely injuring his neck and back, and causing serious internal injuries. But Van Gorder, a former police officer, survived.
"I was a supervisor, responding to a family dispute, one of the most dangerous calls a police officer can take," recalled the Scripps Health president and chief executive officer of that terrible moment almost three decades ago. "Emotions run high."
These days, Van Gorder, 54, is credited with responding to another high-stakes call , stemming the financial hemorrhaging of the $1.7 billion nonprofit corporation, where he oversees more than 2,600 affiliated physicians and 11,000 employees across five hospital campuses in the San Diego region, Scripps Clinic and Scripps Mercy Medical Group. But Van Gorder has always straddled two worlds , health care and law enforcement , and still does to this day.
The Early Days
Van Gorder first got a taste for police work in the early '70s as a participant in a police/student worker program while attending California State University in Los Angeles.
"I wasn't sure that it was what I wanted to do," said Van Gorder about a law enforcement career. "I was vacillating."
So, in 1973, he went to work at Huntington Memorial Hospital in Pasadena, where he worked in the emergency room's patient financial services, and in the security department, while still attending school.
"I learned an enormous amount about health care," said Van Gorder.
While at Huntington, the self-described "overachiever" was asked to apply to be the administrative director for the clinical/pathology laboratory.
"I told them that I had never supervised anything other than Arby's," he said.
But he got the job.
"They took a chance on me," said Van Gorder.
He put in the first clinical lab computer system. How did he know how to do that?
"Learning on the job," said Van Gorder. "I researched it, talked with the data processing department, talked with vendors. I did all the appropriate research. I'm sure that we made mistakes along the way."
Wanderlust
But Van Gorder still had "wanderlust," as he recalled. So, in 1976, he took the exam to be a police officer in the Monterey Park Police Department, just east of Los Angeles in San Gabriel Valley, scoring among the top two in a field of hundreds contending for a couple of open slots.
"I got a call saying, 'We are hiring you. Show up at the Sheriff's Academy on Monday,' " said Van Gorder.
His life would take another detour following his head-on car collision in 1978. A year of hospitalizations ensued, that at one point put him in traction at Orthopaedic Hospital in Los Angeles.
The Monterey Park Police Department treated him "extraordinarily well" and gave him the chance to return. But that period was short-lived, when a superior decided that Van Gorder , still rehabilitating , posed too much of a liability.
"They offered me retirement or permanent light duty," he recalled. "I was 27, and the last thing I wanted was to be sitting at my desk for the rest of my years."
The city sent him to learn how to be a polygraph examiner.
"I decided that this is not what I wanted to do the rest of my life," said Van Gorder.
It was time for another career shift. His experience as a hospital patient had been a good one, said Van Gorder, joking that, "I am not a good patient."
His hospital stay made a lasting impression.
"I am passionate for what ER and trauma centers do, and for the triage process we have today," he said. "Those things didn't exist for me, but I fared well."
Returning To Health
Around that time, a job opened at Orthopaedic Hospital where he had been laid up, and he interviewed for the job of director of safety and security. He was told, "Great, you are a cop, but why should I hire you?"
"I said, 'Pay me minimum wage and give me a chance. I can prove that you made the right choice.' Ninety days later, he gave me an evaluation with a top score and said, 'You are the right guy for the job.' "
He also proved to be the right guy for Rosemary Treiger, the woman who would become his wife. Trained in early childhood development, she worked at the hospital with seriously ill children, helping them through the process of surgery and recovery.
"She spent an enormous amount of time with dying children," said Van Gorder. "It was a very difficult job."
While Rosemary had a graduate degree, Van Gorder did not, and it proved to be a barrier for his career advancement. So, in 1984, he enrolled in a public administration/health services administration master's degree program at the University of Southern California, which he said was "extremely expensive."
"I applied, got in, worked full time and went to school full time," he said. "And I got married in between."
He also was required to do a residency. But, with all of that, Van Gorder ended up graduating at the top of his class.
He endured a short stint as a national director of development for an insurance benefits group, but quit when his travel schedule took him away from his newborn son, David. He then reconnected with his old boss, Robert Sloane, who had moved on to Anaheim Memorial Hospital, and hired Van Gorder as vice president in 1986. Promoted to senior vice president in 1991, Van Gorder left Anaheim in 1993 to become executive vice president of Little Company of Mary Hospital in Torrance, where he served until 1995.
That year, Van Gorder joined the renamed Anaheim Memorial Medical Center as president and CEO, and the following year, merged Anaheim Memorial Hospital with Memorial Health Services.
"It was a great training ground for me," he said.
In 1997, he joined Long Beach Memorial Medical Center as CEO, where he served until 1999, when he joined Scripps Health as chief operating officer.
Trial By Fire
A year later, Van Gorder found himself thrust into the CEO spot after his predecessor, Stanley Pappelbaum, resigned following a vote of no confidence by the doctors.
Van Gorder had inherited a financial mess at Scripps Health that included declining patient volume and donations. So, after that no-confidence vote, he decided to scrap the basic business model and start from scratch.
"We lost $20 million-plus that year so there was no reason to look too far ahead , when we were losing money today," he recalled. "We had to fix everything from start to finish."
It wouldn't be easy.
"I had trouble getting financial information," said Van Gorder. "We were not as strong as everybody thought that we were. We were in deep financial trouble."
Abby Silverman, a partner with the local office law firm of Chicago-based Baker & McKenzie, and a former chair of the Scripps Health board of trustees, recalled those early days.
"When he first came, there was a financial crisis," said Silverman. "We couldn't invest in capital projects that we needed to provide first-rate, high-quality, world-class health care in our next phase.
"Chris devised a plan to tighten our belts. We put ourselves in a position to reinvest and no business can go without that. In health care, that is especially important, because our profit margins are so small. You need some capital to play with in terms of investment."
Meanwhile, Van Gorder also was contending with deteriorating relations between the doctors and management.
"It struck me, early on, that there seemed to be a negative relationship between doctors and administrators," said Van Gorder. "I didn't get it. There is an assumption that administrators only care about making a buck. I never met an administrator who wasn't passionate about patient care. Maybe some physicians conveniently ignore the fact that if we don't run a hospital efficiently, there won't be any hospital left to take care of the patients."
Having said that, he added, "I've always had good physician relationships."
So, Van Gorder shared the bleak fiscal diagnosis with the doctors, informing them that, "We needed to be on a tight capital diet."
"At first it was met by skepticism, but as we shared the information the medical staff gave us time to rebuild the system," said Van Gorder.
Van Gorder credits his rapport with the doctors to some wisdom given to him by his father-in-law, William Treiger, a retired physician himself, who had worked at a medical center in Tarzana.
"My father-in-law said, 'As president of a hospital, it is your hospital , technically. But you guys will come and go. But, most likely, I am going to spend my entire career at this hospital.' "
The lesson here?
"I always treat physicians as owners," said Van Gorder. "We've been able to work for seven years in concert, moving forward in a tumultuous time. They are fabulous doctors, and they helped make us what we are."
Valerie Norton, medical director of the Scripps Mercy Emergency Department, gives Van Gorder high marks for leadership.
"Chris is a very charismatic, warm, supportive leader," she said. "It's much easier for him to get changes made that he thinks are important for the health of the organization. From my point of view, communication is always very open and respectful."
In 2005, she enrolled in Scripps' Physician Leadership Academy, started by Van Gorder and Brent Eastman, chief medical officer at Scripps Health.
"It was fantastic," said Norton. "It gave me insight into what it takes to run a health-care system, and how to be a good leader."
Without the turnaround that Van Gorder is leading, Norton said, "We wouldn't have the expansion we have had. It's not all a bed of roses. We struggle with financials at Mercy, but, being part of a larger system, we have support."