Qualcomm, Kyocera Ring Up New Wireless Technologies at Orlando Show
Monday, April 2, 2007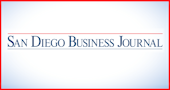 Tech companies having anything to do with wireless communications saw the big annual trade show in Orlando, Fla., as the place to make a splash last week.
Granted, Apple's iPhone drew as much attention as a sumo wrestler making a cannonball jump in the neighborhood pool.
Still, San Diego companies worked hard to divert attention their way.
Technology houses from Sorrento Mesa and surrounding areas trotted out new products, services and partnerships during the Cellular Telecommunications and Internet Association show March 27-29.
Some highlights:
Get ready for the abbreviation "UMB." It stands for Ultra Mobile Broadband.
Qualcomm Inc. says the technology will provide the speed and performance customers will expect as the decade rolls to an end. The new way of doing things combines advanced antennas, OFDMA (Orthogonal Frequency Division Multiple Access) technology as well as Qualcomm's signature flavor, CDMA (Code Division Multiple Access).
In Orlando, Qualcomm displayed new UMB technology for the cell tower and the handset. The company promised hardware makers that they could handle pre-production samples of the microchips during the first half of 2008.
The company showed off other, unrelated chip projects as well.
Qualcomm is also rolling out a TV-over-cell phone service called MediaFLO. In Orlando, the ESPN network announced a sports programming lineup for small-screen viewers. (Verizon Wireless customers know the TV service by the brand name "V Cast.")
Kyocera Wireless Corp., the local subsidiary of Japan-based Kyocera, demonstrated new uses for wireless phones, such as the ability to use the handset as a debit card. At Kyocera's booth, show visitors could use a prototype phone, loaded with technology from Visa International, to buy a drink from a vending machine.
Kyocera also unveiled five new handsets, heavy with advanced CDMA features, plus other new products. And it debuted a new brand strategy with an East-meets-West theme and the tagline "Tomorrow is Rising." Local ad agency Vitro Robertson developed the marketing campaign.
Software companies had their own announcements. San Diego-based PacketVideo Corp., which designs code for music and video services, announced at the show that it had acquired Switzerland-based SDC AG for an undisclosed sum. PacketVideo is a unit of Connecticut-based NextWave Wireless Inc.
V-Enable, a San Diego company which designs software that lets people search through data using voice commands, showed some automated directory assistance software that pays its own way with advertising.
What's more, the company announced its directory assistance software received a 2006 Technology Leadership Award from the Frost & Sullivan consulting firm.
Also at the show, two hardware-makers, Novatel Wireless and Axesstel Inc., exhibited new modems.