Feminist Gloria Steinem Gives Keynote Address at Tea By the Sea Gathering
Monday, April 2, 2007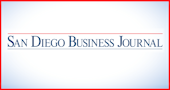 The local Center for Community Solutions recently honored businesses and community members as well as volunteers at the Eighth Annual Tea By the Sea, which featured Ms. Magazine co-founder and feminist leader Gloria Steinem as keynote speaker.
The nonprofit presented awards to volunteers Chrissy Cmorik, Sami Longo-Disse and Dustin Slack, and also honored the Junior Seau Foundation as community partner, Verizon Communications as corporate partner and Jeanne Johnson as the 2007 Courage Award winner.
The center has been creating safe and healthy communities with an emphasis on the treatment and prevention of sexual assaults and domestic violence since 1969.
- - -
Scripps Clinic and Scripps Green Hospital's fifth annual Renaissance Ball was scheduled for March 31 at the Hyatt Regency La Jolla to honor philanthropist Burl Mackenzie.
Mackenzie serves on advisory boards of the Scripps Clinic and Scripps Green Hospital, Scripps Clinic Division of Cardiology and the Shiley Center for Orthopaedic Research and Education.
Her donations have also funded the Mackenzie Endowment for Nursing Services, in addition to other important medical programs.
- - -
Casa de Amparo honored Oceanside-based OneSource Distributors Inc. at its Second Annual World Cup Grand Prix at the Del Mar Arena on March 24.
"Casa de Amparo provides a refuge for neglected and abused children, and enables us the opportunity to support the Casa community," said Paul Judge, OneSource senior vice president.
- - -
Mayor Jerry Sanders kicked off the Mayors for Meals Day campaign March 20 by delivering meals to senior citizens along with other mayors in the county and Meals on Wheels volunteers.
Other mayors participating included Cheryl Cox of Chula Vista, Carl Hilliard of Del Mar, James Bond of Encinitas, Jim Wood of Oceanside and Morris Vance of Vista. Meals on Wheels serves elderly residents who have trouble preparing their own meals.
- - -
The Grossmont Healthcare District, which supports various health-related programs and services in East County, was recently presented with the 2007 Visionary Award by the Home of Guiding Hands, an El Cajon nonprofit helping residents with developmental disabilities.
- - -
The American Lung Association will celebrate 100 years in San Diego on April 28 at the San Diego Air & Space Museum. The association will honor John Hawkins, president and CEO of Cloud 9 Shuttle; Ron Roberts, San Diego county supervisor; and Richard Anderson, executive vice president of Petco Park. The Association said all three were to be honored for contributing to cleaner air in the community.
- - -
Mothers Against Drunk Driving recently recognized the local offices of Waste Management Inc. at a special luncheon. "We're very excited that we have been selected for this award and also to be a multi-year supporter of MADD," said Jason Rose, general manager in San Diego. MADD honors volunteers for their commitment in working against teenage drinking and driving.
- - -
The Boys & Girls Clubs of Carlsbad honored Invitrogen Corp., Colby Geller and Eddie Serna as volunteers of the year at its seventh annual recognition dinner. The awards recognize volunteer service given on behalf of area youth and the two clubs.
- - -
Jenny and Sid Craig, co-founders of Jenny Craig International, have been presented with the Horatio Alger Award and inducted as lifetime members of the Horatio Alger Association of Distinguished Americans.
The group honors the achievements of outstanding individuals who have succeeded despite adversity.
- - -
Business Week has ranked the University of San Diego School of Business Administration as one of the top undergraduate business programs in the nation. USD's undergraduate business program numbered 46 out of the top 50
programs listed by the news magazine.
- - -
The Small Business Administration has named Hany Girgis, CEO and founder of SkillStorm Inc., Small-Business Person of the Year.
"I am extremely honored to be distinguished with such a prestigious award by the SBA," Girgis said. "I have been blessed with many opportunities throughout my career and am appreciative to everyone who has supported me in my endeavors."
Please send Kudos information to Stacey Bengtson at sbengtson@sdbj.com or San Diego philanthropist Joyce Glazer at jglazer@sdbj.com .