Executives Who Sold Cabrellis Hope They Have Another Winner in Tragara
Monday, April 2, 2007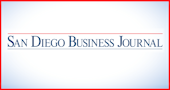 The management team at Tragara Pharmaceuticals Inc. is hoping it can create another winner.
While one of biotechnology firms' ultimate goals is to get the Food and Drug Administration to approve their drugs , which often takes more than a decade, if at all , getting acquired by another company can be a faster route to financial success in this industry.
From those who led the November sale of San Diego-based Cabrellis Pharmaceuticals to Boulder, Colo.-based Pharmion Corp. comes Tragara. The companies did not disclose the purchase amount of that sale.
Launched early this year, Tragara said March 14 that it has raised $40 million in first found financing. Investors included San Diego's Domain Associates and ProQuest Investments, Menlo Park's Morgenthaler Ventures, Costa Mesa's Oxford Bioscience Partners and New York-based Mitsubishi International Corp.
Tragara plans to use the money for clinical development of its cancer drug candidate, which might also be used for inflammation-related disorders.
Tragara Chief Executive Officer Thomas Estok also was CEO at Cabrellis. Other leaders at Tragara include Tracy Lawhorn, who serves as vice president of regulatory affairs, and Christopher LeMasters, who will serve as chief business officer.
- - -
Biosite Acquired: Fullerton-based Beckman Coulter Corp. said recently that it plans to purchase San Diego's Biosite Inc. for $1.5 billion. Biosite has more than 1,000 employees , more than any other San Diego-based life sciences company.
Biosite sells diagnostic tests such as the Triage BNP, a portable, 15-minute congestive heart failure test used in more than half of hospitals in the United States. Beckman makes instruments and chemicals for lab researchers.
In the recent deal, announced March 25, Beckman offered to buy Biosite's outstanding common stock for $85 per share, a 53 percent premium over the stock's closing price of $55.38 on March 23. Shares of Biosite, traded as BSTE on Nasdaq, soared following the announcement, closing March 27 at $83.76.
- - -
What's Next? Next Pharmaceuticals is regaining composure following the sudden death of former CEO and co-founder Bob Garrison. Next named Chairman Charles Kosmont, the other co-founder, its CEO last week.
Garrison, who died of a heart attack March 1 at age 64, and Kosmont founded the dietary supplement company together in 1997.
Kosmont has managed startup, growth and turnaround companies.
He served as president of the Met-Rx Cos., president at Vestro Inc. and chairman and CEO at Growers Transplanting Inc. Kosmont also was a partner at Princeton/Montrose Partners, a venture capital firm.
Next is also moving its corporate offices to Salinas from Carlsbad, effective April 4.
- - -
Seeking A Piece Of $2B Market: Amira Pharmaceuticals raised $25 million in a second round of financing March 23, and hopes to advance its drug for respiratory and cardiac problems.
According to Amira, the U.S. market for respiratory drugs is $2 billion to $3 billion.
The investment round was led by Novo A/S, a subsidiary of Novo Nordisk, which has partners in Copenhagen, Denmark, England and San Francisco.
Other investors included San Diego's Avalon Ventures, Palo Alto's Prospect Venture Partners, Menlo Park's Versant Ventures, as well as founding investors.
Amira, founded in 2005, will use the money to advance several compounds, including AM-103, which could be used for heart and respiratory conditions.
Amira expects to file an Investigational Medicinal Product Dossier in Europe for the drug within two months. Two other compounds are being tested in animals now.
- - -
Trial Halted: The human clinical trial that Genentech halted last month will not affect production of Avastin in its Oceanside plant, the company has said.
Genentech, based in South San Francisco, reported March 24 that one patient died and several others developed holes in their gastrointestinal track and windpipe in a trial in Nashville, Tenn.
It involved 29 small-cell lung cancer patients and tested Avastin in combination with chemotherapy.
None of the other 130 trials Genentech is conducting on Avastin involves chemotherapy, the company said.
Genentech employs 600 workers in Oceanside. Shares, which trade on the New York Stock Exchange as DNA, traded at $82.70, down 37 cents, on March 27.
Contact Katie Weeks with biotechnology news at (858) 277-6359 or kweeks@sdbj.com .