Banks Draw Closer to Merger
Friday, September 29, 2006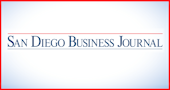 Two San Diego County bank holding companies, First Community Bancorp in Rancho Santa Fe and similarly named Community Bancorp in Escondido, said each company's shareholders approved separate actions Sept. 27 sought in connection with First Community's acquisition of Community Bancorp.
In May, First Community, with more than $4.6 billion in assets, agreed to purchase Community Bancorp, with nearly $900 million in assets, for an aggregate $277 million.
Community Bancorp's shareholders gave their assent to the deal with 56.8 percent of its outstanding shares cast in favor. A simple majority was required.
First Community shareholders cast 74 percent of the outstanding shares for amending the company's bylaws to expand its board seats up to 15, with the exact number to be determined later.
As part of the deal, two board members from Community Bancorp are joining First Community's board.
The transaction, which regulators have approved, should be completed by mid-November.
Once final, First Community Bancorp plans to merge its First National Bank subsidiary into Pacific Western National Bank, another subsidiary bank. First Community will then change the name of the merged bank to Pacific Western Bank, to be headquartered in downtown San Diego.
The president of Pacific Western will be Michael Perdue, the current chief executive officer of Community Bancorp, while current First National CEO Bob Borgman becomes a director of Pacific Western Bank.
, Mike Allen