Singlefin Bytes a Bit of Success in Cyberworld of e-Mail Filtering
Monday, September 25, 2006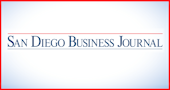 Correction: In a previous version of this story, the name of Troy Saxton-Getty was incomplete. This version has been corrected.
BY MICHAEL KUHLMANN
Troy Saxton-Getty doesn't skip a heartbeat talking about spam, spam filtering, anti-spam software and e-mail filtering. He's too giddy about his company's massive 21 percent compound annual growth rate.
The company: San Diego-based Singlefin, which bills itself as the "leading provider of managed protection services" that utilizes "multiple Tier 1, geographically dispersed and fault-tolerant data centers."
In layman's terms, Singlefin is Yahoo! on steroids. Better yet, smaller businesses can sign up with Singlefin, while personalizing and managing their employees' mailboxes and instant message software with little or no cost and minimal downtime.
Partnered with information technology bigwigs Level 3, Verio and Dell, Singlefin's client roster has already garnered Netzero, Juno and BlueLight. There's also the projected revenue of $10.7 billion worldwide by 2009 that keeps Singlefin's CEO chipper. And that's not bad for having started out just five years ago in a Cardiff beach house.
"It was started by some guys who were surfers that were also computer guys," Saxton-Getty recalls. "They set out to create an anti-spam offering for business clients.
"The reason why they wanted to be different is that the founder (Jake Jacoby) was actually at FrontBridge, which was recently bought by Microsoft. Jacoby was originally interested in being their top sales guy, and they said, 'We kind of have our exit strategy figured out.' "
Hence, the alpha nerds gave birth to Singlefin, which got its name from the single fin of the long board, an "old guy's board" for surfing.
Packaged Security
Jacoby developed an offering that was more than just anti-spam. It included a host of security components such as anti-virus, anti-phishing for mailboxes, IM tracking and logging, and Web filtering.
What follows next is an onslaught of 10.5 million customers and a strategic move to cater more to the direct client, since Singlefin always pushed toward their OEM, or rebranded "white box," version of their service.
"It's happened by accident, I'll be perfectly honest," Saxton-Getty said. "You get customers going like, 'Why can't I just sign up with you?' So we've always had it, but we've never pushed it. We've never done any PR, we've never done any marketing, and next thing we know, we have 600 enterprise accounts and several million seats of direct customers.
"We don't even have salespeople. We have some technical support people that answer the phone and take orders when someone says, 'I want to sign up.' "
When they do sign up, customers have four options , two paid and two free versions of Singlefin's packaged e-mail service, which require no hardware or software installations. Its free Business Security Filtering service features anti-virus and anti-spam protection, so that a company's employees can have mailboxes with their domain name.
However, this also includes a tacky Singlefin tagline at the bottom of the e-mail message, much like Yahoo!'s basic service.
The paid version includes an array of other Web filters, as well as 24/7 telephone support , the free version is only e-mail-based and can take up to two days for a response.
The other two options are Singlefin's niche, really, mainly because of the mobile sync, shared contacts, shared calendar and e-mail archive capabilities that mirror that of Microsoft Outlook.
More Storage And Protection
But its free Business Office Package has also posed a major problem for the company.
Because Singlefin offers 100 megabytes of disk space per free user , and the amount of registered free users is increasing rapidly , it has to allocate a substantial amount of resources to its two data storage centers.
"That causes us, obviously, quite a lot of pain, having to allocate so much disk space for a free customer," Saxton-Getty said. "But given our strategy of conversion (from free to paid accounts), that's our biggest pain point."
Then, there's also the continuing threat of hackers. Indeed, Singlefin gets "huge attacks and huge spikes," but that goes on "all the time."
"People try to hack us pretty regularly, specifically the spam community," Saxton-Getty admitted. "These guys try to thwart the anti-spam capability of all of us. They're constantly testing to see what e-mail they can send and how they can get through.
"We can hold your mail up to 10 seconds, at the most. But in that 10-second window, we have to react because one of these guys has figured out how to get around the anti-spam."
In spite of this, the company has never had a security breach, and Saxton-Getty remains firm on his company's talent and vigilance.
"We have a Fortune 500 class operation," he said. "Most of the (IT) guys are coming from places like Exodus, Digital Island, where they supported E-Trade, Schwab and those types of accounts. That's our engineering team.
"The thing is, a small business can never afford to have that kind of talent available to them. You're talking about $150,000-type engineers, but we can give that because we're aggregating so many small businesses together into a Fortune 500 class infrastructure. As long as you have a domain, then you're a perfect potential prospect."
Michael Kuhlmann is a San Diego-based business and entertainment writer.