Sunstone Sells Off Holiday Inn in Mission Valley, Other Properties
Monday, September 18, 2006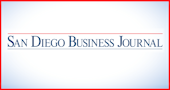 San Clemente-based Sunstone Hotel Investors Inc. has sold the 175-room Holiday Inn in Mission Valley as part of a portfolio of 13 lodging properties that went for a total of $144.1 million to Trinity Hotel Investors LLC, a private New York City-based fund manager.
Sunstone Hotel Investors, one of the largest owners of hotels in San Diego, is a publicly traded real estate investment trust whose shares are sold on the New York Stock Exchange as SHO.
Announcement of the sale, which totaled 2,567 rooms, was made Sept. 13.
Calling the properties "non-strategic assets," Robert A. Alter, Sunstone's chief executive officer, said the divestiture, which amounted to 21 percent of its total portfolio, accounted for only about 5.3 percent of earnings before interest, taxes, depreciation and amortization (EBITDA) for the six months ended June 30.
"We will be able to redirect management resources toward optimizing our geographic distribution of our portfolio from 19 states to 14 states," Alter added. "Since October 2004, we have sold 19 non-strategic hotels and have acquired 13 high-quality hotels. We plan to reinvest the proceeds from this sale into hotels that fit a similar profile to that of our other recent acquisitions."
According to the company, net proceeds of $136.4 million from the sale, including a $5.6 million promissory note, will be reinvested into hotels similar to those acquired during the past two years. However, no specific properties are under contract. About $20.3 million of the net proceeds will be used to repay debt and the balance will be invested.
Since 2001, the company and its predecessors have sold 45 hotels with an average of 177 rooms each and have acquired 32 with an average of 367 rooms each.
In late June, Sunstone purchased the 259-room W San Diego in downtown's Marina District for $96 million, or $370,000 per room.
In January, it acquired the 284-room Marriott Del Mar on El Camino Real for $64 million and in May it scooped up the 335-room Embassy Suites La Jolla for $100 million.
Sunstone currently owns 50 hotels with an aggregate of 15,928 rooms in 14 states, primarily in the upscale segments operated as franchises of such companies as Marriott, Hyatt, Hilton, Starwood and Fairmont.