TV Commands 90 Percent of Ad Revenue But Online Sales Gaining Fast
Monday, September 11, 2006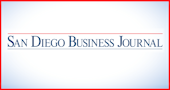 BY MICHAEL KUHLMANN
Search engine optimization, click-through rates, consumer generated marketing , get to know these key terms, because in the next 36 months, two-thirds of TV advertising power will drop, leaving ample room for interactive online ads to take charge.
According to a McKinsey & Co. study, today's TV audience shrunk to nearly half of what it used to be in 1990, despite a 40 percent spending increase in prime time broadcast marketing dollars.
And the outlook isn't getting any better for advertising via traditional media. But where television, newspapers and radio end, the Internet brings loads of potential when it comes to maximizing return on investment.
"Right now, 90 percent of media dollars are still spent on TV," said John McKusick, director of design and founder for Geary Interactive, the largest online marketing agency in San Diego. "So now, if you're able to say 'hey, let's put TV online', and it shifts all that money from the TV show that's not getting any results , and it's put onto a Web site that's targeted to your audience, it's going to be a no-brainer."
And there are even more telltale signs that interactive marketing will become the benchmark for advertisers. Forrester Research's calculus states that 16 percent of Gen Y-ers (people ages 18 to 26) are blogging on their own and spending more time online than watching TV, in addition to adopting new technology faster than any other generation.
A Spending Shift
"Marketers aren't standing by idly , we surveyed marketing executives earlier this year in conjunction with the ANA (Association of National Advertisers) and 78 percent of respondents said that advertising had become less effective in the past two years," Peter Kim, senior analyst for Forrester Research, said. "So they intend to spend less on TV, shifting their spending instead to digital , Web advertising, search engine marketing and e-mail marketing."
Translation: Marketing initiatives will have to zero in on consumer generated marketing, or CGM, in order to be successful, because it will become a key factor in the digital marketing space.
"An ideal situation is that when you are coming up with an ad or Web site, it's so good that it fits the message so perfectly that you don't have to spend any money on media; you get free advertising," McKusick explained.
"The advertisers that are more successful are harnessing PR, peer-to-peer review and all these ways to communicate what you are doing , free. And at the same time, maybe the ad is controversial enough where it has just enough spin to it that the media wants to start writing about it."
So thanks to the Internet and consumers being able to talk about their experiences with certain products or services, it means that companies can no longer market a product that "sucks," according to Max Kalehoff, vice president of the Word of Mouth Marketing Association. However, there is one major drawback with this new avenue in reaching the consumer.
Said Kalehoff: "In CGM, with this heightened culture in advice seeking and advice giving where we're making more decisions, it kind of gets into that question, 'How much can our marketing models work on an ocean of disruption?' Because you can only disrupt so many times, before (the consumer) is tuning out , ultimately, it causes a need for a new paradigm."
Model Changes
Additionally, there are even more elements that are changing when it comes to the consumer market, according to McKusick.
"We have the Gen X and baby boomers and everything but I feel like that's gone," McKusick said. "These categorizations are like trying to combine continents.
"There are hundreds of subcultures for Gen X-ers. Even gender matters less and less. It's more of a consumer behavior, psychographic targeting."
Regardless, the advertising model is changing in every facet imaginable, and advertisers will have to figure out best practices for online marketing through trial and error and word-of-mouth marketing.
"The most successful online advertising will be a part of integrated marketing campaigns, recognizing that consumers are multi-channel by nature," Kim said. "As the trend of 'social computing' continues to rise , where technology becomes more accessible and consumers increasingly look to connect , content such as CGM will inevitably play a bigger role in the marketing mix, as well."
Michael Kuhlmann is a San Diego-based business and entertainment writer.