Millions Spent on Securing Lindbergh Field Since Terror Attacks
Monday, September 11, 2006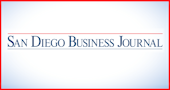 BY AMY YARNALL
In the five years since Sept. 11, 2001, Lindbergh Field has spent more than $5 million trying to improve security at the nation's busiest single-runway airport.
Those expenditures include installing a digital card reader system for employees throughout the 660-acre complex, as well as upgrading and expanding the facility's old digital video surveillance system.
"Since 9/11, we've improved and enhanced operations," said Mark Denari, director of aviation security and public safety for the San Diego County Regional Airport Authority.
Denari and his staff of 10 are the airport's first line of defense against terrorist threats.
He came to Lindbergh in 2003 after eight years of service at San Francisco International Airport, one of the busiest airports on the West Coast.
"When I came to San Diego I inherited two baseline security systems," Denari said. "They were the access control system and the closed circuit television system. These were installed in the early '90s."
There are approximately 5,300 people with an ID card spread across 26 air carriers, contractors service companies and employees. At any peak time there is about 1,000 people moving around the air side (where airplanes are located).
The imminent risk of someone losing their ID is similar to losing one's house key, but the threat is aimed at airport security.
The advanced card reader system requires additional steps to verify IDs, Denari said.
Technological Upgrades
The airport's closed circuit TV system has been expanded in the past two years, upgrading the technology from an archaic analog system to digital.
It's like using a tape deck and then upgrading to a compact disc player, said Denari.
"We have over 300 cameras located throughout the airport , 95 cameras supporting the terminal complex," Denari said.
He said the airport's perimeter intrusion detection is the most recent installation, costing $800,000.
With 2,300 feet of perimeter fencing, the detection system is the first line of defense against intruders who want to gain access to airplanes parked on the tarmac.
The fence, anchored by concrete posts standing 7 feet tall with barbed wire on the top, has special sensors.
"If you cut the fence, (the sensor) sends back the exact location to the main computer terminal," said Dan Brault, president of San Diego-based security contracting firm Electro Specialties Systems, which installed the system.
In business for 20 years, ESS generated $3 million in revenue for 2005. The firm typically installs card reader systems and intrusion systems and works on large industrial facilities, including Petco Park, Qualcomm Stadium and San Diego State University.
ESS finished testing the detection system last month.
A New System
Before the installation, Denari said the airport had no intrusion detection devices. Surveillance was left up to employees on airport grounds.
"Transportation Security Administration performance regulations don't tell you that you have to have a perimeter set up," Denari said, "but just that you have to stop intruders from entering a security control area."
He said workers are now testing the system to make sure it works, and it should be operational in October.
"If someone were to enter the side of the airport, the system would send a signal indicating that someone is trying to jump the fence," Denari said. "We could use one of our closed circuit cameras to see the area being affected."
There have been intrusions in the past few years but none was aimed at harming aviation.
Denari refused to comment further on the purpose of the intrusions or how security operations were carried out.
Seeking Funds
Finding money is his biggest challenge for airport security.
"The challenges we've seen is funding, funding, funding," Denari said. "Finding funding the airport can use where we don't have to use our own capital on projects is the biggest obstacle."
With repeated travel to the East Coast, Denari has visited Washington, D.C., seeking funding to support his advanced technology vision and he has come back empty-handed.
"If we could get support from the state or federal government, we could use those funds to keep the airport viable and functioning."
Keeping his airport functioning is what keeps Denari waking up each morning.
"I am very passionate in having the safest environment possible for our passengers," Denari said.
For the past five weeks, the airport has been at the elevated orange threat level, Denari reported, which increases the workload for security personnel.
An elevated threat level increases vehicle inspections at access gates, terminals and curbs.
The U.S. Department of Homeland Security uses a threat advisory system to indicate the level of security for domestic and international flights.
The lowest threat level is green for low risk of terrorist attack; second highest is blue, maintaining a general guard against possible terrorist attack; third highest is elevated yellow for a significant risk; the fourth is high risk orange, and the highest threat level is severe threat red.
"We've never been at a green or blue, all airports in the U.S. are operating at an elevated yellow," Denari said; he expects the San Diego airport to be at an elevated orange through the fifth anniversary of Sept. 11.
The local TSA has not been notified about any change to the current security level.
More Technology Sought
A vast majority of aviation programs rely on employees to be the eyes and ears in detecting intruders or suspicious activity.
Denari said he would like to see the reliance of human detection to decrease and see an increased reliance on advanced technology.
The San Francisco airport has what Denari calls a "hand geometry" reader, which reads an employee's ID card to verify identity. It is used as a second form of identification to access secured areas.
"I like hand geometry. San Francisco brought it on board in 1991, I inherited it, it works great."
The future of airport security and its technology rest in Denari's plan to go forward.
"We are really excited to go forward with the security technology enhancement program," Denari said. "We are currently in phase one and designing and developing a model for security operations at the airport."
Some technology systems being considered are radar detection and thermal imaging.
"What I am suggesting is that we use this radar ID to detect the intruders before they even reach the fence," said Denari.
But when asked about the current security response system, Denari declined to comment.
"I don't want to reveal the system, we don't want to do that because then anyone who wants to do harm to the airport can study our operations," Denari said. "And then they think that our security is predictable; we want to be unpredictable."