Survey: Fish Swims Past Foes
Friday, September 8, 2006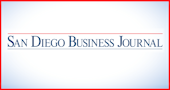 Fish & Richardson P.C., with offices in San Diego, has been ranked the law firm with the best intellectual property practice in the 2007 edition of the "Vault Guide to the Top 100 Law Firms."
The rankings are compiled from a survey of more than 16,000 law firm associates who were asked to rank their peer law firms according to prestige.
Vault also asked associates to rank their own firms on subjects such as satisfaction, hours, compensation, diversity, treatment by partners, and selectivity in hiring.
In those areas, Fish & Richardson ranked ninth for best in associate satisfaction; 16th for best in compensation; 17th for best firms to work for; 19th for best associate partner relations; and 20th for best in selectivity.
In July, Fish & Richardson was named the top patent litigation firm in the country by IP Law & Business in its annual survey of firms that handle the most patent cases.
The firm, specializing in intellectual property, litigation and corporate law, has more than 420 attorneys and technology specialists in 10 offices nationwide.
, Pat Broderick