Sales Reshape Ligand
Friday, September 8, 2006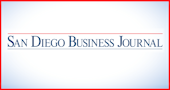 San Diego-based Ligand Pharmaceuticals Inc. has announced two sales that will divest its commercial drug operations in return for $518 million in cash and cash consideration.
Early in the day Sept. 7, Ligand announced that Bristol, Tenn.-based King Pharmaceuticals had purchased the rights to Ligand painkiller Avinza for $265 million.
The deal , which allows King to sell Avinza in the United States, its territories and Canada , includes King's assumption of a $48 million product liability to the Netherlands-based Organon and all existing product royalty obligations.
Organon and Ligand terminated an agreement to co-promote Avinza in January, returning the rights to Avinza to Ligand. Part of the termination requires Ligand to pay Organon $37.8 million by Oct. 17 and an additional $10 million by Jan. 15.
Under King and Ligand's agreement, King will pay Ligand a royalty of 15 percent for the first 20 months after closing the deal and will continue to pay between a 5 percent and 15 percent royalty (depending on how well the product sells) thereafter until the product's patent expires in 2017.
Later the same day, Ligand announced the sale of its oncology product lines for $205 million, effectively eliminating the company's commercial drug operations.
Through the sale, Tokyo-based Eisai Co. and Teaneck, N.J.-based Eisai Inc. receive the rights to four oncology drugs , Ontak, Targretin capsules, Targretin gel and Panretin gel , and all related intellectual property, licenses, inventory and distribution agreements.
Ligand Chief Executive Officer Henry Blissenbach said the sales mark a strategic change for the company, as Ligand "will become a dynamic and highly specialized R & D; and royalty company."
In August, Ligand President and Chief Executive Officer David Robinson resigned to pursue other opportunities and in June, the company settled a lawsuit alleging violations of securities laws for $12.2 million. Ligand said the allegations were without merit.
Ligand is traded on the Nasdaq under the ticker symbol LGND and closed Sept. 8 at $10.56, up from the previous day's close of $9.95.
, Andy Killion