Press Club Honors Channel 10's Managing Editor, Local PR Veteran
Monday, October 30, 2006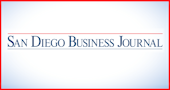 Hundreds of journalists from print, radio, TV and the Web were to be honored Oct. 26 during the San Diego Press Club's 33rd annual Excellence in Journalism awards dinner.
As of press time, just hours before the event, special honorees were scheduled to be Managing Editor JW August of KGTV Channel 10 and public relations veteran Bill Seaton, who is retired but once worked for the San Diego Zoo and SeaWorld.
August, who has been with Channel 10 for 21 years, was chosen to receive the 2006 Harold Keen Award for Outstanding Contribution in Journalism, while Seaton was chosen to receive the 2006 Andy Mace Award for Outstanding Contribution in Public Relations.
The two were to be honored at a casual awards ceremony at Chuey's Restaurant and Cantina on the outskirts of downtown San Diego. A 1940s Latin quarter was to be the theme of the night, which club officials said would break away from the traditional dry awards ceremony routine.
In addition to August and Seaton, more than 300 journalists were set to win awards in a number of categories, ranging from those involving newspaper stories to those broadcast through the airwaves. More than 1,100 entries were received for the contest, with many entrants clenching more than one award.
From the San Diego Business Journal, nine staff members received a total of 22 awards for non-daily newspaper entries.
In the sports category, reporter Connie Lewis placed first with "New Breed Races Against Del Mar." In the business and financial category, reporter Pat Broderick took first with "Eminent Domain: A New Tool for Business to Use?" and reporter Brad Graves took second with "An Uphill Battle."
In the education category, Supplements Editor Stacey Bengtson garnered first place with "Educational Contributions."
In the political and government category, Assistant Managing Editor Julie Gallant clenched second place with "Ship Leaves Little Wake, But Makes Lasting Impression," while Broderick took second with "Turnaround Specialist." Broderick also received a second-place award in the criminal justice category with "Judge and Counsel."
In the health and medicine category, reporter Katie Weeks took first and third with "Fake Drugs a Big Concern at U.S. Border" and "Emergence of the Medi-Spa," respectively.
In the science and technology category, Broderick took first and second with "Net Income" and "Developers Finding Pay Dirt in Solid Ground," respectively. Broderick also garnered first place in the profile category with "Winning Games."
In the multicultural category, reporter Jessica Long took second place with "International Aid," while Weeks took third with "Biotech Scene Has Taiwanese Accent."
In the feature category, Broderick took first place with "Public Art Pits Dollars Vs. Decorations."
In the public service and consumer advocacy category, reporter Mike Allen gained first place with "Local Bankruptcy Attorneys Take Dim View of New Regulations." In the arts and entertainment category, Lewis took first place with "Stingaree's Opening Night Proved to Be a Gamble," while Long took second and third with "KPRI-FM Surprises Many, Hits 10th Birthday" and "Take 2 for ," respectively.
In the front page design category, production artist Michael S. Domine took third with "Children's Museum to Tower Above Predecessors." In the feature layout category, Domine ranked first and third with "Lobbying for Change" and "Educational Contributions," respectively.
The San Diego Business Journal has been covering county business happenings for the past 26 years and employs 14 full-time people in its editorial and production departments.
- - -
Account News: Sorrento Mesa-based marketing firm Townsend Inc. announced Oct. 19 that it has expanded its technology and life sciences divisions with new clients, Agresso and INC Research.
Agresso, a financial software company, is based in the Netherlands and has U.S. offices in Dallas and Los Angeles, while INC, a contract pharmaceutical and biotechnology research company, is based in Raleigh, N.C.
Townsend was founded in 1993, has about 25 employees and reported revenues of $1.95 million last year.
Townsend's news was preceded on Oct. 17 by an announcement from the McRae Agency. The firm announced it has been hired to handle public and media relations for the Shops at Las Americas, a large outlet center in south San Diego that caters to shoppers on both sides of the U.S.-Mexico border.
Founded in 1995, the McRae Agency is based in Hillcrest but also maintains an office in Scottsdale, Ariz. The agency has nine employees and reported revenues of $400,000 last year.
Nearby, in the Golden Hill area, Castle Advertising announced Oct. 16 that it has been retained by the Escondido Auto Park to launch a branding and media campaign.
Castle was founded in 1967 and has about 20 employees. Revenue information was not available.
Terms of the new accounts around town were not disclosed.
Send media and marketing news to Jessica Long at jlong@sdbj.com. She can also be reached at (858) 277-6359, ext. 3114.