Appeals Court Judge Honored for Distinguished Service to Justice
Monday, October 23, 2006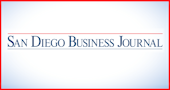 Numerous San Diego law firms, attorneys and judges have been receiving county and even national recognition for accomplishments this fall. The awards continue to roll in steadily, allowing each recipient only a few minutes of time in the spotlight.
Senior Judge J. Clifford Wallace: On Oct. 19, Senior Judge J. Clifford Wallace of the 9th U.S. Circuit Court of Appeals received the federal judiciary's most prestigious honor during a ceremony at Spreckels Theater.
Wallace, of San Diego, was presented the American Judicature Society's 2005 Edward J. Devitt Distinguished Service to Justice Award by Associate Justice Anthony M. Kennedy of the U.S. Supreme Court.
The award recognizes significant contributions to the administration of justice, the advancement of the rule of law, and the improvement of society as a whole, according to the 9th Circuit.
Wallace has more than 50 years of law experience. He received his judicial commission as a U.S. district judge in San Diego in 1970. Two years later, he joined the 9th Circuit Court of Appeals, where he served for 24 years as an active judge and chief circuit judge on the nation's largest federal appellate court.
Casey Gerry Schenk Francavilla Blatt & Penfield LLP: San Diego-based Casey Gerry partner Gayle Blatt was named president-elect of the Consumer Attorneys of San Diego, an organization of trial lawyers whose focus is to preserve and protect the legal rights of consumers.
Blatt joined Casey Gerry more than 20 years ago and concentrates her practice on personal injury, pharmaceutical and product liability litigation.
DLA Piper Rudnick Gary Cary US LLP: International mega-firm DLA Piper, which has offices downtown and in the Golden Triangle, was recently recognized in the National Law Journal's second annual "Defense Hot List."
The law journal looks for firms with an overall track record that scored at least one significant win within the past 12 months and focused on firms that prevailed in a trial in which the financial stakes were high, or where the win set the tone for litigation strategy or determined the outcome of similar cases nationally.
Fish & Richardson P.C.: IP Law & Business magazine named Fish & Richardson the top litigation firm in the country. The intellectual property magazine survey found Fish & Richardson, which has an office in San Diego, handled more patent litigation than any other firm. The survey ranks firms by the number of new patent cases initiated or defended from July 2005 through June 2006.
Fish & Richardson also announced that two of its San Diego-based attorneys and 23 attorneys nationwide have been named to the 2007 edition of the Best Lawyers in America. The Best Lawyers guide is based on a peer-review survey in which thousands of leading attorneys throughout the country cast their votes on the legal abilities of other lawyers in their specialties.
Juanita Brooks, intellectual property law and white-collar criminal defense specialist, and John Gartman, intellectual property law, were the San Diego recipients.
Foley & Lardner LLP: International law firm Foley & Lardner tied for third in the IP Law & Business survey, which ranked more than 250 of the largest intellectual property firms.
Foley & Lardner, with offices in San Diego, also ranked in the top 200 on the annual InformationWeek 500 list of the nation's most innovative information technology organizations. It was the only law firm named to the list. The publication has honored the nation's most innovative users of information technology with its annual ranking for 18 years.
Heller Ehrman LLP: Heller Ehrman attorney David Kleinfeld was named the firm's co-chairman of its complex commercial litigation group. The group consists of 250 attorneys in 12 offices worldwide. Kleinfeld works in the University Towne Center office of the international firm.
Since joining Heller Ehrman in 1999 and launching its San Diego litigation practice, Kleinfeld has represented Qualcomm Inc. and other clients in both technology and business.
"For me, each case has a business objective," said Kleinfeld. "It is gratifying to help a client achieve a valuable business objective through litigation. When I can go to court and help clients protect their assets or add strategic value for shareholders, that's what it is all about."
Heller Ehrman announced this month that the San Diego Volunteer Lawyer Program named its UTC office Pro Bono Law Firm of the Year. More than 20 Heller Ehrman attorneys and staff have been donating their time with the volunteer lawyer program to handle cases involving domestic violence, asylum and immigration, civil rights, and other issues. The firm has received the honor three out of the past five years.
Heller Ehrman has also ranked fifth on the American Lawyer's 2006 "A-List" of top U.S. law firms. The list examines pro bono performance, diversity in the workplace, treatment and development of young lawyers, and financial performance among the legal profession's 200 largest law firms.
Heller Ehrman is one of only nine firms to have made the list every year since it has been published.
Morrison & Foerster: For the third year in a row, international law firm Morrison & Foerster has been named to the American Lawyer's "A-List." The firm, which has an office in Del Mar Heights, climbed five spots to rank sixth in this year's list.
Pillsbury Winthrop Shaw Pittman LLP: International law firm Pillsbury Winthrop was named a 2006 Working Mother 100 Best Company by Working Mother magazine. Profiled in the October issue, Pillsbury, which has a San Diego office, was celebrated for creating a work environment that is especially hospitable for women.
Sheppard Mullin Richter & Hamilton LLP: Three attorneys from Sheppard Mullin's San Diego firm were named to the Best Lawyers in America 2007. Guylyn Cummins, Michael Moore and Robert Rose, along with 39 other Sheppard Mullin attorneys, received the honor.
Thomas Jefferson School of Law: Thomas Jefferson law professor Marjorie Cohn was scheduled to be sworn in as president of the 6,000-member National Lawyers Guild on Oct. 20.
The NLG is a group of lawyers, law students and legal professionals dedicated to the need of basic and progressive change in political and economic systems.
Contact Michelle Mowad with law news at mmowad@sdbj.com , or call her at (858) 277-6359.