Week in Review
Monday, October 16, 2006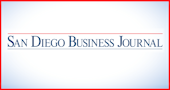 Quote of the Week
'There's going to be a lot more millionaires after this, that's for sure.'
, Bud Leedom, publisher of the California Stock Report, talking about Science Applications International Corp.'s initial public offering. Click here for the story.
Saturday, Oct. 7
San Diego National Honors Teachers: Four educators were named 2007 San Diego County Teachers of the Year during ceremonies at San Diego's Civic Theatre. Cox Communications and the San Diego County Office of Education presented the evening with sponsor San Diego National Bank. They honored Cheri Gabler of West Hills High School, Judy Leff of Paul Ecke Central School, Pam Moorehead of City Heights Community School and Eduardo Ochoa of Marston Middle School.
, Brad Graves
Monday, Oct. 9
Home Drone: General Atomics Aeronautical Systems Inc. announced that it received an order from the U.S. Department of Homeland Security for two of its Predator B unmanned aircraft systems for $33.9 million. The aircraft will monitor the nation's borders.
, Andy Killion
- - -
D.C. Deal: Science Applications International Corp. announced it had received an information technology contract worth $33.9 million at full exercise from the U.S. Department of Health and Human Services.
, Andy Killion
Tuesday, Oct. 10
Decision In Patent Fight: The U.S. International Trade Commission handed down an initial determination on one of many patent lawsuits filed by Irvine-based Broadcom Corp. against Qualcomm Inc.
Administrative law Judge Charles E. Bullock determined that Qualcomm infringed on U.S. Patent No. 6,714,983, owned by Broadcom. The patent pertains to certain chips found in wireless handsets and their functions. The judge found that Qualcomm did not infringe on other patents, however.
In a written statement, Qualcomm Chief Executive Officer Paul Jacobs said the company appreciated that the judge recommended against banning handset makers from importing handsets that use Qualcomm's chips and software. While disputing Broadcom's patent, Qualcomm also said it was "exploring designs to replace the features accused of infringement with superior functionality."
, Andy Killion and Brad Graves
- - -
Venture Funded: San Diego-based CoDa Therapeutics Inc., which is developing Nexagon, a topical cream to treat wounds, announced it had garnered $10 million in a Series A financing round.
The funding was provided by Domain Associates, a San Diego venture firm that has supported Amylin Pharmaceuticals Inc., Biosite Inc. and NovaCardia.
Bradford Duft, chief executive officer of CoDa, is a patent attorney and was formerly vice president and general counsel at Amylin.
, Katie Weeks
Wednesday, Oct. 11
Embracing Open Source: Qualcomm Inc. announced that it is opening the doors for developers to customize and improve new versions of its Eudora e-mail software.
, Andy Killion
Thursday, Oct. 12
Marketing With Movies: Here's looking at you, eligible Medicare recipient.
Louisville, Ky.-based Humana Medicare began a public relations blitz targeting Humphrey Bogart fans. Humana bundled a free trip to see "Casablanca" in theaters with the screening of its promotional film "Changing Lives." Locally, the campaign came to the Mira Mesa Stadium 18 Theater.
, Andy Killion