Calendar
Monday, October 16, 2006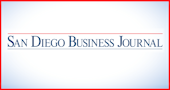 If you would like your business event that costs $75 or less to attend included in the calendar section, make sure your press release arrives at our offices at least 15 working days before the event.
Send requests to:
Liz Wiedemann
San Diego Business Journal
4909 Murphy Canyon Road, Suite 200
San Diego, CA 92123
or e-mail lwiedemann@sdbj.com
TUESDAY, OCT. 17
Executive Women International presents "Installation of Officers," at 5:30 p.m. at the San Diego Union-Tribune, 350 Camino de la Reina, San Diego. Cost is $45. For information, e-mail debbie@parmamanagement.com.
THURSDAY, OCT. 19
Printing Industries Association/San Diego presents "Sales Strategies for Closing the Print Sale," from 8 to 11:30 a.m. at 3954 Murphy Canyon Road. Cost is $65. For information, call (858) 571-6555.
San Diego Association of Health Underwriters presents "Continuing Education Day," from 9 a.m. to 2 p.m. at the Hilton Torrey Pines, 10950 N. Torrey Pines Road, La Jolla. Cost is $40. For information, call (858) 883-2486.
SATURDAY, OCT. 21
SCORE presents "Value of Internet as Business Tool for Expanding Selling Capacity," from 9 a.m. to 3 p.m. at the Mission Valley campus of Point Loma Nazarene University, 4007 Camino del Rio S., San Diego. Cost is $64-$74. For information, call (619) 557-7272.