Epsilon Systems, Spawar Play Let's Make an $11 Million Deal
Monday, October 9, 2006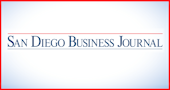 BY AMY YARNALL
San Diego-based defense contracting firm Epsilon Systems Solutions Inc. won an $11 million contract from Space and Naval Warfare Systems Command in San Diego to supply program management for Spawar's integrated communication system.
Spawar notified Epsilon of the award Sept. 27. The work will start with its 2007 fiscal year.
The company provides services to the defense industry that include developing defense products for the U.S. military, engineering and technical services, and nuclear power plant consulting.
The contract will assist Spawar's communication program office with business and financial management to 40 programs.
Spawar is responsible for management of the U.S. Navy, Army, Marine Corps and Air Force.
"The contract is scheduled for five years and is ongoing because we'll have to do the maintenance on it," Bryan Min, founder, president and chief executive officer, said.
The contract includes writing the financial plans, planning Spawar's budget and assisting in carrying out those financial plans.
"We will also assist Spawar in determining its financial goals," Jack Sears, vice president of general management for engineering and technical services of Epsilon, said.
Sears' division is in charge of managing the contract.
And They're Off
"We jumped right off and in with both feet and we are handling it, we are in there day to day working on it and we will continue to maintain their communication programs," Sears said.
Epsilon has two similar contracts with Spawar at this time. The contracts are for its administration division. The first one was won in 2000, the second in 2004.
Epsilon has previously provided services to the U.S. Navy for navigation in its ships and work in satellite communications for divisions of the U.S. military.
"We don't know who we competed against for the contract," Sears said of the recent $11 million deal.
Some local contractors that could have been in the pool for the contract include San Diego-based TCI, a defense consulting company, and Indus Technology, a San Diego-based engineering and technical services company for the U.S. government and its military.
The former contractor who handled the business and financial planning for Spawar's communication office was Booz Allen Hamilton, said Sears.
The defense industry is a multi-billion-dollar market, says Sears. Spawar reported it has $2 billion to spend on its projects in 2007.
Rapid Growth
Epsilon has quickly become a high-profile defense contractor in eight years.
Three-fifths of the firm's business comes from the Department of Defense and U.S. Navy.
Launched in 1998, the company now has 450 employees nationwide, including 40 in its San Diego office. Min said Epsilon continues to grow.
"We expect to see 60 to 70 percent growth in 2006 from last year," Min said.
Epsilon averaged 80 government contracts this year.
Epsilon Systems ranked 58th in the 2006 San Diego Business Journal's Fastest-Growing Private Companies list, increasing its revenue 55 percent from 2003 to 2005 , from $27 million to $42 million.
In an executive profile that appeared in the Business Journal in February, Min said his business philosophy was "all about the people."
"In October we will have a tech summit with upper management, what we try to do is retain the people we hire, and retain our clients."
Unique Office
Working hard and perseverance are part of keeping up with Epsilon Systems' growth, but Min said it is important for his company and the staff to have a little fun because they spend most of their adult life at work.
"We have a really unique office," Min said. "If you walk around, you'll see it. I mean come on, how many chief financial officers do you know who break dance?"
Min was referring to Epsilon Systems' Alan Stewart.
"We have push-up competitions and occasional car races," Min said.
Additional acts include the company's Christmas celebration when Min and a few executives sing "The Impossible Dream" from the 1965 Broadway musical "Man of La Mancha" to the employees at Epsilon.