Enterprise Village Will Teach Kids a Thing or Two About Business
Monday, October 9, 2006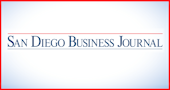 Thousands of San Diego's fifth graders will soon get the chance to experience work in a simulated city full of San Diego businesses.
Junior Achievement of San Diego and Imperial counties has broken ground on Enterprise Village, a working city of retail stores and other businesses managed by students for students.
Come next spring, Enterprise Village should be bustling with a new set of employees and consumers each school day. About 12,000 area fifth-grade students will dress the part, act the part, and learn how to be a successful part of free enterprise in this program.
Joanne Pastula, president and chief executive officer of JA, said Enterprise Village gives fifth graders lessons to help them prepare for successful careers when they grow up.
"Junior Achievement is teaching kids how to earn a living, manage money and live the American dream," Pastula said.
She stressed the importance of young students having the opportunity to "try on careers" and identify job possibilities while still in school.
With bankruptcy filings at an all-time high among 18- to 25-year-olds, students need to acquire knowledge and best practice principles early on, Pastula added.
"We need to get to every single kid to let them know how to make money, how to manage money, and how to work and be successful," Pastula said.
Working Village
When completed, the village, located in Mission Valley, will feature a 10,000-square-foot replica of a typical village, complete with shops such as an accounting firm, bank, city hall, community arts center, manufacturing business, medical center, newspaper, nonprofit organization, real estate office, restaurant, retail shops, television station, telephone and utility company.
Pastula said the concept is an investment today to help prepare the business owners, citizens and civic leaders of tomorrow.
With a single donation, in addition to significant support from the organization's board, JA purchased a 23,000-square-foot facility in Mission Valley, which serves as the site for its new headquarters plus the village.
Just last month, local dignitaries and donors, plus principals and students from the program's 20 San Diego and Imperial counties pilot schools, gathered for the first look at the facility that will house the hands-on project.
Seven of the 20 businesses in the village now have sponsored individual stores. The sponsors are Cox Communications, Jack in the Box, San Diego Gas & Electric Co., San Diego National Bank, SeaWorld, State Farm Insurance, and Washington Mutual.
Pastula said six other sponsors are close to supporting other businesses in the village.
She also said the village would possess hometown familiarity with replicas of the bay, Coronado Bridge, Balboa Park and Gaslamp Quarter.
"When the kids come it will feel like San Diego with its iconic look of the city," Pastula said.
Applying For Jobs
In the weeks leading up to attending Enterprise Village, students will read classified ads in the village newspaper, fill out applications or create resumes for jobs, and interview for one or two of the 120 "positions" available.
Once hired, students will learn job skills, formulate a business plan and budget, produce or obtain products, and formulate advertising efforts. Then, like any other aspiring business owner, they get business loans from the bank, lease space for their shop from a realtor, and have the utilities turned on.
Students will elect a mayor, all before arriving on-site, as well as write laws and ordinances.
Each participant will use their paychecks or village currency to pay for items and services as a consumer and, of course, pay their taxes.
Pastula said JA continues to raise funds for its $7.8 million capital campaign.
The money will be used to pay for the purchase of its new headquarters, which houses the village, construction of the village, plus an endowment and operating fund.
Junior Achievement was founded in 1919 in Springfield, Mass.
The local chapter serves 30,000 students each year with 1,200 trained volunteers teaching kindergarten through grade 12 programs.
JA board member Wendy Gillespie said the impact of experience-based learning is immense and so engaging for the fifth-grade students. Gillespie, a former participant in JASD-sponsored programs in high school, said Enterprise Village allows students to demonstrate personal accountability.
"They learn all about teamwork and making business decisions," Gillespie said. "It is a wonderful example of entrepreneurship in action."