NASA Signs SpaceDev Deal
Tuesday, October 3, 2006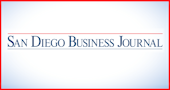 Fly me to the moon , and let me investigate the cold-trap regions for the presence of water-ice.
Starsys Inc., a subsidiary of Poway-based SpaceDev Inc., crooned that tune to woo NASA, and got a contract worth $6.3 million.
The contract , awarded by the NASA Goddard Space Flight Center and Swales Aerospace , expands Starsys' role in NASA's Lunar Reconnaissance Orbiter program. Boulder, Colo.-based Starsys received awards last year that bring its total contract value for the project to roughly $7.3 million.
Starsys' new responsibilities include providing equipment and controls to align the orbiter's solar panels with the sun and its antenna for communication with Earth.
The orbiter is scheduled for launch in fall 2008. Its mission is to study the moon to characterize future robotic and human landing sites.
SpaceDev is a producer and marketer of space products and solutions and is traded over the counter. Its ticker symbol is SPDV. SpaceDev shares closed Oct. 2 at $1.12, down 11 cents from the Sept. 29 close.
, Andy Killion