Construction Journal
Monday, October 2, 2006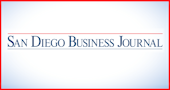 Benchmark Landscape Inc. has completed installation of about 280,000 square feet of landscape areas at Maranatha Christian School in the Black Mountain Ranch area west of Rancho Bernardo.
Cost: $500,000.
Project managers: Joe DeYoung and Dennis Bozykowski.
Landscape architect: Cambridge Group of San Diego.
General contractor: Harper Construction.
- - -
Ware Malcomb's San Diego office has completed the design and started construction for Cabrillo Medical Center at 7695 Cardinal Court in San Diego.
Cost: Unavailable.
Developer: Fenway Properties.
Broker: GVA IPC.
General contractor: Reno Contracting.
- - -
RSI Roofing has signed a contract to re-roof a building at Kyocera International Inc. on Balboa Avenue.
Cost: $284,000.
Sales manager: Sid Scott.
- - -
Graham Downes Architecture is performing interior tenant improvements for an existing 415-square-foot building to be converted into a D*Lush deluxe beverage establishment within Otay Ranch Towne Center in Chula Vista.
Cost: $200,000.
Design director: Graham Downes.
Designer/project manager: Eva Thorn.
Electrical/mechanical engineer: M. Retail Engineering.
General contractor: ICS Restaurant Builders.
Signage/graphics: Don Hollis.
- - -
Roel Construction has completed tenant improvements of a 44,160-square foot, two-story office building for Qualcomm Inc. in San Diego.
Cost: Unavailable.
Architect: Mark Mills of Delawie Wilkes Rodrigues Barker.
Consultants: Louis Abbott and Shawn MacLean of Walsh Engineers; John Elder of ILA + Zammit Engineering Group.
Project executive: Wayne Hickey.
Group manager: Doug Briggs.
Project manager: Bill Thompson.
Assistant project manager: Jason Gauerke.
Superintendent: Tom Groenendal.
Senior project coordinator: Carol Maniglia.
Subcontractors: Arrow Automatic Fire Sprinklers Inc., Benchmark Landscape, Casper Co., Commercial & Industrial Roofing Co. Inc., Davis Framing Inc., Dittman Masonry, Dynalectric Co., Howard's Rug Co., Institutional Cabinet & Millwork Inc., McBride Door & Hardware Inc., Otis Elevator, Quality Reinforcing Inc., RBE, Raymond Interior Systems, Richardson Steel Inc., G.A. Rogers Acoustics Inc., Russell Glass Inc., SCS Flooring Systems, Saddleback Waterproofing, Spring Valley Insulation Co. Inc., University Mechanical & Engineering Contractors Inc., DEC Engineers, TKG Consulting Engineers, and Partitions and Accessories Co.
Send news of contract awards and construction commencement and completion for the Construction Journal to pbroderick@sdbj.com . Please include the address, contractor, architect, square footage and cost.