San Diego National Makes Children the Beneficiaries of Its Celebration
Monday, November 20, 2006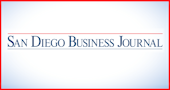 One of San Diego County's most prominent banks is celebrating its silver anniversary by giving back to the community that has made it so successful.
On Nov. 16, San Diego National Bank celebrated its 25th anniversary and National Philanthropy Week by giving $500,000 each to three regional youth programs , Monarch Schools, the NTC Foundation and the Sports Training Academics and Recreational/Police Athletic League, or STAR/PAL, all nonprofit organizations.
Monarch Schools is an accredited educational program for homeless and at-risk students.
The NTC Foundation's School at NTC project provides training for youth in visual and performing arts, science and history in conjunction with the 26 historic buildings that the foundation is restoring as a civic and cultural district called Liberty Station.
STAR/PAL serves underprivileged youth throughout the county.
Robert Horsman, president and chief executive officer of SDNB, said the bank has always been committed to making San Diego a better place through community involvement and charitable giving.
STAR/PAL Executive Director Chandani Flinn said donations from the bank has made the organization a success and one that can provide services on a daily basis.
"Their history of giving to STAR/PAL as well as other organizations is astounding," said Flinn. "They are truly a community bank."
Sarita Fuentes, CEO and principal of Monarch Schools, said SDNB's donation will help fund educational services to students who attend classes during the year-round program.
A Legacy Of Giving
The bank started with one 4,000-square-foot office in 1981. It was the largest capitalized national bank in history at the time, with $9 million, according to Horsman. SDNB utilized a team of couriers to transport transactions, including deposits and loan paperwork, around the county, allowing it to reach out and extend services to more local residents. Within the first year, the bank gave $50,000 to community organizations for projects and initiatives in San Diego.
"The philosophy of giving, being committed and having a voice involved in the community really started with the board of directors from day one and that culture continues today," said Horsman.
In 1995, the bank opened a second branch, in Chula Vista. Two years later, it was acquired by Chicago-based First Bank of Oak Park. When FBOP acquired San Diego National, it also acquired Regency Savings, which had 10 offices in San Diego.
The SDNB name, the same board of directors and same community spirit remained, but new business grew dramatically with the Regency merger, according to Horsman. The merger and consolidation brought assets up to $1 billion.
"Our ability to give has grown because of our profitability and size," said Horsman. "We give back 3 percent of our net profit to the community each year and we have done that since First Bank of Oak Park acquired us in 1997."
Looking To Grow
Horsman said he would like to see San Diego National expand to 50 branches, from its current 21, in and around San Diego in the next five years.
Four more branch locations , in Poway, Mission Hills, Santee and Temecula , are set to open by mid-2007. Temecula would be the first location outside the county.
The board of directors is continuously looking for new branch location possibilities and the opportunity for an acquisition of a local bank.
Horsman, like his employees, is dedicated to community involvement. He is the incoming chairman of the San Diego Regional Chamber of Commerce and Scripps Mercy Hospital Foundation, and serves on the San Diego Opera's executive committee.
Nearly 80 percent of SDNB's 350 employees serve their community with involvement in local nonprofits and other community agencies. Bank management, staff and board members contribute time and money to more than 400 community organizations.
"We like to give money where we are also active," said Horsman.
Going Above And Beyond
This year, the bank will give an additional million dollars, above the 3 percent it earmarks annually, in celebration of its 25th anniversary. Total donations to area organizations are estimated to exceed $2 million.
SDNB is one of the largest community banks in the region, with assets in excess of $2.4 billion. The bank operates 21 branches in the county, including ones in Carlsbad, Chula Vista, downtown San Diego, Encinitas, Escondido and Vista.
The bank has announced earnings of $9.26 million for the third quarter. This represents a 13 percent decrease compared with the same quarter in 2005. Year-to-date earnings were $24.53 million. This represents a decrease of 7 percent from the $26.29 million in earnings for the same period in 2005.
The bank said its return on average assets is still strong at 1.39 percent and the decrease in earnings from last year was due in part to the bank's continued branch expansion efforts.
Assets, deposits and loans posted gains over totals for the same time period in 2005.