Merrill Lynch, Other Organizations Award $390K for Youth Training
Monday, November 20, 2006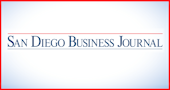 Investing Pays Off, a program of Merrill Lynch's California Partnership for Economic Achievement, the Greenlining Institute and community organizations, has given grants totaling $390,000 to three local organizations that promote entrepreneurship awareness and leadership training for young people.
Girl Scouts, San Diego-Imperial Council will receive $30,000 in funding during the next three years.
Student Achievement Guided By Experience Scholars San Diego will receive $60,000 in funding over the next three years. SAGE is an academic and professional enrichment program for undergraduates at three University of California campuses.
Foundation for Investor Education Inc. will receive $300,000 in funding throughout the next three years. The foundation develops and provides learning resources for investors of all ages, raising the level of investor awareness in the United States.
- - -
Clark Realty Builders donated $90,000 to Operation Homefront-San Diego.
In partnership with the company's affiliate, the Clark Construction Group, Clark Realty raised more than $200,000 at its annual golf tournament.
OHSD serves as a resource for military families by providing financial and emotional assistance when they experience emergencies and unexpected day-to-day issues.
- - -
The James Irvine Foundation gave $350,000 to the Oceanside Museum of Art in conjunction with the foundation's launching of the Arts Regional Initiative.
The funds will go toward building an additional 16,000 square feet of space, as well as staffing and strategic planning for the museum.
- - -
Sempra Energy and its employees have donated $10,000 to the Susan G. Komen Foundation. In addition, Sempra Energy employee, Molly Cartmill, and her family have recorded a CD and will donate the proceeds to the foundation.
The San Diego affiliate of the Susan G. Komen Breast Cancer Foundation was founded in 1995 to raise funds that provide grants to organizations and medical clinics that serve individuals in San Diego County.
- - -
Charco Construction and its subcontractors will donate an addition to the family home of Ian and Carrie Davies, San Diego residents and foster parents, in appreciation of their service to the community.
The addition to the Davies' 785-square-foot home will include a master bedroom and bathroom and an expansion of the living and dining area, as well as a new roof and central heating and air conditioning.
The project will double the size of the home to 1,373 square feet, providing more room for the foster children.
- - -
Home Start Inc. received a $10,000 grant from the Ellen Browning Scripps Foundation to fund the Healing Together from Child Abuse program.
Home Start is dedicated to preventing child abuse and promoting healthy families and communities.
- - -
Girl Scouts, San Diego-Imperial Council, in conjunction with KSWB Cares for Kids, presented Urban Campout 2006 Down Under, raising more than $300,000.
Major sponsors included 1st Pacific Bank, Geico Direct, SAIC Inc., Union Bank of California and Sony.
- - -
San Diego State University received a $2.7 million gift from three alumni to help build its first alumni center. The three alumni were Jack Goodall, chairman of the board for Jack in the Box Inc., Leon Parma, chairman of Parma Management Co., and Robert Payne, president and chief executive officer of Multi-Ventures Inc. and principal owner of the Hanalei Hotel in Mission Valley.
The gift is a major part in helping accumulate the money to build the alumni center, which will be a 35,000-square-foot facility.
- - -
San Diego Symphony's season-opening gala Opus 2006 Carnaval raised approximately $50,000.
Sycuan Resort & Casino was the Diamond Sponsor, Star Parking was the Platinum Sponsor and Qualcomm Inc. was the Gold Sponsor. Other sponsors included Audrey Geisel, Gary and Jerri-Ann Jacobs, and Dene and Elizabeth Oliver.
Please send Giving information to Stacey Bengtson at sbengtson@sdbj.com or San Diego philanthropist Joyce Glazer at jglazer@sdbj.com .