UCSD, Cal Western Team Up to Offer Master's Degree Program in Health Law
Monday, November 13, 2006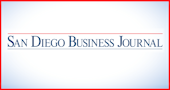 BY STACEY BENGTSON
Health care and law are interrelated. However, they have rarely been conjoined as a program in educational institutions' curriculum.
Recognizing the need for a college program in the health care and law industries, UC San Diego and the California Western School of Law in San Diego have launched a master's degree program in health law.
"The faculty noticed for a while that there was a real void, and a problem where the two professions intersect," said Bruce Dunn, associate dean of UCSD Extended Studies and Public Programs.
In 2001, the two schools decided to brainstorm a program that would address issues concerning both industries. After much discussion, the schools created the Master of Advanced Study in Health Law.
The program will train practitioners in both fields to become leaders in their professions.
"This joint degree with UCSD will bring lawyers and doctors together to evaluate and help solve some of the most important questions in health care delivery, bioethics and health law," said Steven Smith, dean of the Cal Western School of Law. "A better understanding between lawyers and the medical field can only improve the quality of services we provide."
UCSD's School of Medicine and Cal Western's Institute of Health Law Studies will manage the program, while UCSD Extended Studies and Public Programs will advise students.
The program is an accredited, 36-unit master's degree conferred by both schools and is to begin in the fall 2007 semester. The tuition will be $27,500. The application deadline is April 3.
The program is designed for working professionals in both fields. Students will attend late afternoon, night and weekend classes on a part-time basis.
Both schools have high expectations that this program will have an impact in the community and on the West Coast, noting that it's the only program of its kind in the western United States.
Improving Two Industries
"I think it'll prepare a whole breed and generation of professionals that are much better informed of the issues that are facing both industries," said Dunn. "It will also help build new public policy and business opportunities."
Smith agrees that it'll have a positive effect in these two industries as well.
"There will be a greater understanding of their professions. So when lawyers are working with medical professionals, they will have a better understanding of medicine, as well as health care professionals will have a legal analysis when they are making health care decisions," Smith said.
The schools said that the first year of the program will bring 15 students, and grow to 30 the following year. They will have around 10 faculty members from each school teaching various aspects in the program.
Course content will include health law, the impact of health care, the legal aspects and politics of health care in the United States, and medical malpractice.
"This program will give people a broader look at policy aspects as well as legal aspects of the two industries," said Bryan Liang, associate professor of anesthesiology at UCSD.
Liang also said that he believes the program will give graduates in both professions the tools to do a better job when working with each other.