San Marcos' Submarina to Make the Dive Into National Sandwich Market
Monday, November 13, 2006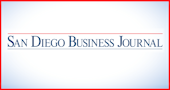 They say the military can make a man where a boy once stood. In the case of Submarina Inc.'s Jeff Warfield, they were right.
A veteran, Warfield is using skills he picked up as a Navy flight engineer to help lead his family's San Marcos-based retail sandwich chain into battle , a battle for national dollars.
The 39-year-old president and chief executive officer of Submarina announced plans this month to open as many as 110 new Submarina locations in the Houston area within the next 10 years.
"A lot of people thought I was nuts," Warfield said. "I could have easily settled down with my current units and been happy, lived a very comfortable life here in San Diego, but I truly believe we can be so much more."
Submarina has 51 locations in San Diego, Riverside and Orange counties, and is projecting $16 million in revenues this year.
In addition to Texas, Warfield said that he is close to reaching area development deals in Tucson, Ariz.; St. George, Utah; and Tampa Bay, Fla.
Warfield's goal is to compete nationally against Subway Restaurants and Quiznos Sub , the Nos. 1 and 2 franchises, according to Entrepreneur Magazine.
The Irvine-based publisher reports that Subway, founded in 1965, has nearly 20,000 U.S. franchises, while Quiznos, founded in 1981, has 3,800-plus.
Warfield's secret strategy: getting in bed with the enemy, sort of.
He signed a deal with Benjamin Padilla and Robert Pina, who between them once owned nearly two dozen Subway stores, to help Warfield expand in Houston. Terms of the deal were not available.
"Probably what closed the deal was Jeff Warfield himself," said Padilla, who severed his ties with Subway in 1998. "He has what it takes to break out regionally."
Recently, when a local Submarina franchisee suffered a heart attack and his wife told Warfield she didn't know how to run their shop while her husband recovered, Warfield showed up the next day to run the business.
"Some might send out a crew but I don't know any other CEO who cares that much about his individual franchisees and that's going to make a difference because it's personal for Jeff," said Padilla.
A Good Soldier
Warfield's father, Les, and a business partner, Ron Vickers, started Submarina in Poway in 1977. For years, the two men ran the stores in Poway and Escondido while working full-time as letter carriers.
At 11, Warfield swept the floors and took out the trash. In high school, Warfield spent his summers getting up at 5 a.m. so he could catch the bus from Poway to Escondido. He'd then ride his bike clear across town, to work an 8 a.m. to 8 p.m. shift.
Upon graduation, Warfield enlisted in the Navy and became a flight engineer charged with making sure aircraft with nuclear weapon capabilities worked like they were supposed to during Desert Storm.
It was then that Warfield developed the near compulsive work ethic he brings to Submarina today.
"I tell you it was the hardest time in my life, but it paid off," Warfield said. "The military ingrained in me to pay attention to every detail."
Between 1987 and 1997, Submarina's co-founders grew the chain to 12 stores. After the Navy, Warfield briefly attended college then returned to the family business and set a company growth record by opening 20 stores in two years.
"I laughed at college, college to me was a breeze," Warfield said. "Not that I'm bragging about being a smart guy. It's just that the Navy took three years' worth of knowledge and crammed it down me in six months so I was already there by the time I got to college."
Someone else who returned to Submarina is Chief Operating Officer Mimi Zeller, who briefly worked for the company's corporate office in the late 1990s between stints at Domino's Pizza and Mail Boxes Etc.
"I won't go back and work for someone when I don't believe in their product," said Zeller, who returned this past summer after hearing about Warfield's plans for national expansion.
Zeller said she's worked with many CEOs and none passes out his or her personal cell phone number to franchisees as readily as Warfield, who runs a corporate staff of 12.
"I think it's very unusual these days to find someone like that," Zeller said.
Battle Ready
Submarina enjoyed 15 years of growth until the war in Iraq started to affect the economy. Warfield concedes that some stores suffered.
To combat the slowdown, Warfield re-branded the name, adding "California Subs" to the logo to avoid confusion as to what the company sold. He also commissioned a new menu board with contemporary graphics and a mural feature depicting the California lifestyle. Even the napkins and seats have been updated.
Warfield admits that taking on Subway and Quiznos won't be easy, especially considering their resources.
This year, Submarina will spend $700,000 to $800,000 on all its marketing, a third of what Subway spends on TV ads alone.
The chain's first prime time TV commercial is an award-wining parody of the cooking show "Iron Chef," and debuted two months ago.
Warfield admits his national expansion plans are risky, but he is sure it'd be just as risky to rest on his company's laurels and he's taking this latest challenge in stride.
"This new momentum is exciting but it's also nerve-racking," Warfield said. "It's like you've got the ship out in the open sea and you can't just turn around and re-dock, you got to look forward to where your heading is and take what comes at you."