Construction Journal
Monday, November 13, 2006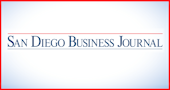 Lyons Warren is providing structural engineering services for World Class Montessori Daycare, a new 8,400-square-foot day care facility at the Santa Luz shopping center at Black Mountain Ranch in Vista.
Cost: $1.7 million.
General contractor: Richard & Richard Construction.
Designer: Gary Seward.
Structural engineer: Glenn Mouritzen.
Property owner: Nakhai-Mohager LLC.
- - -
Smith Consulting Architects is project architect on the remodel of the 15,000-square-foot SynergEyes Inc. in Carlsbad.
Cost: Unavailable.
Oversight: Jery Legerton.
Building owner: Essex Realty Management.
Project architect: Mark Langan.
Project manager: Preston Ball.
Electrical engineer: MPE Consulting.
Mechanical engineer: DEC Engineers.
General contractor: Good & Roberts.
- - -
Johnson & Jennings General Contracting is doing tenant improvements for the 3,233-square-foot offices of Yunker & Schneider at 655 W. Broadway in downtown San Diego.
Cost: $327,845.
Project manager: Joe Weaver.
Project engineer: Max Volkman.
On-site superintendent: Dave Beck.
Subcontractors: Spooner's Woodworks, JJJ Floorcovering, Schmid Insulation, Towne Construction, Centex Glazing, Johnson, Barnes & Finch, B & B; Acoustics, Dave's Painting, Diversified Windowcoverings, Pyro-Com Systems, Schmidt Fire Protection, Control Air Conditioning Corp., and Dynalectric.
- - -
Ninyo & Moore has been hired by the Sweetwater Union High School District to perform a geo-technical evaluation for the proposed upgrade of Montgomery High School.
Cost: $2 million.
- - -
RSI Roofing has signed a contract to re-roof Rock Bottom Brewery on G Street in downtown San Diego.
Cost: $150,000.
RSI president: David Susi.
- - -
Urban Property Services Inc. has been hired to handle property management, engineering and janitorial services for Park Boulevard East, a 107-unit, midrise condo building on Island Avenue in downtown San Diego.
Cost: Unavailable.
Send news of contract awards and construction commencement and completion for the Construction Journal to pbroderick@sdbj.com . Please include the address, contractor, architect, square footage and cost.