Submarina Announces Expansion Plans
Thursday, November 2, 2006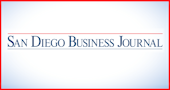 The time has come for Submarina to cowboy-up.
The San Marcos-based franchise company announced Nov. 2 that a deal has been reached to develop as many as 110 new Submarina locations in the greater Houston area within the next 10 years. The move marks the company's first venture into Texas, or any state other than California for that matter.
The sub sandwich chain was started in Poway in 1977 and has since grown to consist of 51 locations in San Diego, Riverside and Orange counties. Texas is just the first of four states the company plans to break into soon. The others are Florida, Utah and Arizona, according to a company report.
Submarina President and Chief Executive Officer Jeff Warfield, whose father Les Warfield co-founded the company, said in a statement that "the time has come to uncork the privately held family business and let the business breathe."
Warfield took over running the company when his father retired early last year. Ron Vickers, who co-founded the company with Les Warfield back in 1977, also retired last year.
, Jessica Long