S.D. Meetings Focus on Stem Cell Institute's Future
Monday, May 29, 2006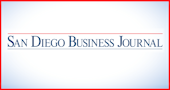 About this time last year, San Diego faced the Bay Area in a high-profile battle for the controversial stem cell institute.
While San Francisco came out on top, claiming the coveted stem-cell hub as its trophy, San Diego will nonetheless play an important role in the early stages of its development when leaders meet here to map out the institute's future.
Officials overseeing the California Institute for Regenerative Medicine, as well as members of the public, are expected to gather in La Jolla on June 1-2 for the first of several planning meetings to determine guiding principles of how scientific grants should be awarded, how much leaders of CIRM should be paid, and what ethics should guide scientists doing state funded stem cell research.
The 29-member CIRM board has $3 billion to distribute to scientists thanks to voters who passed Proposition 71 in a 2004 statewide election. After a two-year legal battle over the new law, Alameda County Superior Court Judge Bonnie Lewman Sabraw ruled April 21 that Proposition 71 was in line with the state's constitution.
Two conservative groups had filed the challenge: the People's Advocate and the National Tax Limitation Foundation. They charged that the proposition was unlawful because it allowed unelected officials, appointed CIRM leaders, to oversee public money.
Stem cell research is a touchy subject, especially to those who oppose abortion, because stem cells are often extracted from donated human embryos. Many scientists say the research could lead to cures for cancer, Parkinson's disease, birth defects and other diseases. Stem cells may also be used to test drugs.
Grants Awarded
While the legal battle was still dubious, CIRM allocated its first research awards, a collective $12.1 million, in mid-April through grants made possible through bond anticipation notes purchased by investors that include six philanthropic entities, CIRM has said.
Several San Diego research institutes received some of that funding, including the Burnham Institute for Medical Research, UC San Diego, the Salk Institute and the Scripps Research Institute. The organizations will use the money to train scientists on stem cell research.
Evan Snyder, a former Harvard University professor who is now director of Burnham's Program on Stem Cells and Regeneration, said the "first tangible evidence of Proposition 71" is coming to fruition now as Burnham and the other local research institutes select scientists to train on stem cell research.
Snyder said Burnham, which received $445,500, would notify six scientists of their admission into the training program.
The upcoming CIRM meetings will take place at the Hilton La Jolla Torrey Pines hotel.
Both meetings are open to the public. While the June 1 meeting, which is scheduled to run from 7 until 10 p.m., is a scientific strategic planning committee meeting, the June 2 meeting, 9:30 a.m. to 5:30 p.m., will be a general meeting of the institute's Independent Citizen's Oversight Committee.
The ICOC will consider its scientific strategic plan at the June 1 meeting, as well as take public comment.
At the June 2 meeting, the group will consider a proposal on salaries for its leaders, including a proposed range of $275,000-$412,500 for its ICOC Chairperson, the vice chairperson and president. The proposed range for CIRM's public relations representative is $80,000-$120,000.
The most recent governor-appointed member of the institute's board is Duane Roth, chief executive officer of San Diego's Connect, a group that focuses largely on commercializing technologies and life sciences industry networking.
Roth said his interest in CIRM lies in helping pass policy that will foster the commercialization of stem cell technologies, though he acknowledged that may be years from now.
"You have to get the fundamentals right," Roth said. "The policies we are adopting now will have a big influence on that."
Roth replaced Gayle Wilson, who resigned earlier this year, according to the agency.
Appeal Expected
CIRM board members will also consider items such as a proposal to commit to an eight-year, $722,000 contract with McLean, Va.-based software company The Arlington Group for a computer system to manage grants.
CIRM spokeswoman Nicole Pagano said the institute fully expects the two groups that sued over Proposition 71 to appeal Judge Lewman Sabraw's decision. The anti-stem cell research groups have said they would.
Snyder said the expected challenges would not affect local training grants because the money is already in hand.
"We're going ahead no matter what," Snyder said. "It has not affected the science. We're already making inroads, and by the time they make the challenge, their arguments will look silly."