Biz Leaders: Miramar Vote Would Divide City
Monday, May 29, 2006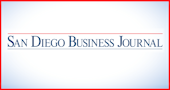 Asking voters to approve the continued pursuit of a portion of Miramar Marine Corps Air Station to relocate San Diego International Airport from Lindbergh Field is likely to divide business groups and San Diegans, in general, into two camps , those who envision the county becoming a world-class destination in need of a larger airport and those who see it as a military town.
If the San Diego County Regional Airport Authority board accepts the recommendation that a key planning committee made last week, ballot language for the November election would pose such a question.
The full nine-member Airport Authority board is scheduled to meet June 5 and is expected to adopt the strategic planning committee's recommendation at that time.
A provisional clause in the proposed draft that would ask voters to decide whether officials should "make every effort to persuade Congress and the military" to give up about 3,000 of the 23,000 acres at MCAS Miramar states that military readiness and safety should be maintained, "with no cost to the military for relocating or modifying operations." It also specifies that roadway improvements would be in place and no local tax revenue could be used in airport construction.
But at least one business leader, Julie Meier Wright, the president and chief executive officer of the San Diego Regional Economic Development Corp., said she thinks the wording "is a little strong."
"I completely understand how the Airport Authority got to the conclusion that Miramar is the most feasible option from a location standpoint," Wright said. "But I think getting into a standoff with the military is not productive. Right now the military is completely on one side of the issue and the authority is on the other side and there doesn't appear to be any middle ground.
"What I've said from the beginning is that I believe the military should fully cooperate with the authority and use this as an opportunity to educate the authority and the public on reasons why they think (joint use) scenarios don't work."
Wright also said she fears that voters would not be well served "by a campaign reduced to sound bites" from the Airport Authority on one side and the military on the other.
Needs Will Change
John Hawkins, who heads Cloud 9 Shuttle and is a member of ASAP-21, a group of business leaders who advocate moving the Downtown airport from its cramped quarters of less than 700 acres, disagrees.
"The county is going to spend some $14 billion to improve local roadways for future transportation needs and the rest of the world is connected by air, so to say that we don't need a bigger, better, more efficient airport is to overlook reality," Hawkins said.
He also expects that within the next 12 years or so, military technology, including fighter jets and helicopters, will change to the point that the Marines' need for space at Miramar would lessen and there would be room for a civilian airport.
There is also the possibility that there will be a greater consolidation of manpower and equipment used by the armed forces in the future, which also could lead to the Marines freeing up a portion of Miramar.
"Look at the nature of national defense and all the changes that have been made in the last 12 years and before," Hawkins said. "Look at Homeland Security. So as the world changes, and the military's needs change and residents' air transportation needs change, maybe there's a possibility all the factions would work together and I think the (draft ballot) language is broad and workable if everybody keeps an open mind."
Hotelier Doug Manchester, who owns the Manchester Grand Hyatt Hotel and is a co-owner of the Marriott Hotel & Marina, currently the city's largest convention center hotels, was a proponent of Miramar as a relocation site for the commercial airport in the past. But he now sides with Wright.
'Waste Of Time'
"The vote is going to stir up a lot of muck," Manchester said. "I'm 100 percent behind the Marine Corps. If they want to find a way to accommodate us (the airport), fine. But if not, that's fine too.
"When I was leading the charge some 10 years ago, there was no question Miramar was where it should go, but to have a vote on this issue at this time is a waste of time and energy and will divide the citizenry and that's not supportive of the Marine Corps, which now says they don't want it there."
In 1994, voters approved a ballot measure , with Manchester leading the charge , to approve Miramar as a site on which to locate the regional airport. However, then-Rep. Randy Cunningham subsequently pushed through a bill that prohibited such a move.
Cunningham, a former Navy fighter pilot, has since been convicted and jailed for taking bribes while in office.
But others believe that Rep. Duncan Hunter, R-El Cajon, poses an equally formidable force to the possibility of joint use at Miramar.
Carl DeMaio, who heads the Performance Institute, said he thinks "dual use of Miramar would make it safe from future BRACs (Base Realignment and Closure) as an economic asset."
But he sees Hunter as a key player in making that happen.
"I think a number of voices have to come out, but I think if Hunter's constituency votes for dual use, he'd reconsider. If a favorable vote comes, I hope the congressional delegation will respond. And if Duncan Hunter wants it, then it will happen."