San Diego's Hotel-Sales Market Remains Red Hot
Monday, May 22, 2006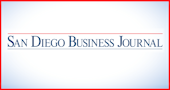 High gas prices and inflation fears may have local tourism officials fretting about the summer visitor count, but the situation apparently hasn't dampened the desire for San Diego hotel properties.
They're selling like hotcakes.
In 2005, the sale of 36 San Diego properties fetched a total of about $1.3 billion , a record setter. And this year appears to be on pace to equal last year, at least in terms of the number of hotels sold.
Last week, the 335-room Embassy Suites La Jolla was sold to Sunstone Hotel Investors for $100 million, said Gary Stougaard, the firm's chief investment officer.
Additionally, a deal to buy the 200-room Hilton Garden Inn Rancho Bernardo has closed for $34.5 million.
And, on May 15, the sale of the 68-room StayBridge Suites Hotel in Downtown was announced for an undisclosed price.
Sunstone Hotel Investors, a real estate investment trust based in San Clemente that owns several San Diego hotels, plans to do a complete renovation of the guest rooms and give the common areas a face-lift, Stougaard said.
The price for the upgrades could run between $7 million and $8 million, but more might be spent if Sunstone "finds it can get a good incremental yield on it," he added.

The seller was Embassy La Jolla Partners, LP, a Delaware limited partnership. The 12-story hotel, which sits on 4 acres on La Jolla Village Drive, was built in 1988.
"The purchase of the Embassy Suites La Jolla is in keeping with our plan to buy upscale assets in markets with high barriers to entry," Stougaard said.
Embassy Suites is a Hilton Hotels brand; Hilton will manage the hotel for Sunstone.
Tight Market
According to Alan Reay, the president of the Atlas Hospitality Group, a Costa Mesa brokerage firm that publishes sales and construction reports on the state's hotel industry, the lack of desirable sites on which to build high-end hotels in San Diego and the escalating cost of construction create high barriers to entry for individual hotel investors.
However, that makes hotels such as the Embassy Suites La Jolla a target for deep-pocketed REITs, because "they're impossible to duplicate," Reay said.
Within the past year, Sunstone has spent $1.5 billion acquiring hotels, including the Hilton Times Square in New York City, the Century Plaza Hotel in Los Angeles and a portfolio of Renaissance hotels in Washington, D.C., the inner harbor of Baltimore, Orlando, Fla., Atlanta, White Plains, N.Y., and Long Beach.
"San Diego is very appealing to REITs, because of its strong performance, occupancy rates and average daily rate," said Reay. "San Diego is one of the best performing markets in the entire country. The economic fundamentals of San Diego, its business climate and tourism are very good.
"So what the REITs want in order to get the stock price they need is a good story for Wall Street, and San Diego is a good story."
In January, Sunstone acquired the 284-room Marriott Del Mar on El Camino Real for $64 million. The company also owns the 125-room Holiday Inn Express in Old Town, the 257-room Hilton Del Mar, the 220-room Holiday Inn Harbor View, the 176-room Courtyard by Marriott in Old Town and the 175-room Holiday Inn Mission Valley.
Advantage For REITs
Bob Rauch, the president of the San Diego County Hotel-Motel Association and co-owner of the Homewood Suites by Hilton San Diego/Del Mar, said that REITs have an advantage over individual firms in buying hotel properties, "because they can borrow at great interest rates."
"There is a tremendous amount of capital available. Lenders need to supply and close on loans. They can't have capital staying idle," he added.
The Hilton Garden Inn on Bernardo Center Drive off Interstate 15 near the Rancho Bernardo Industrial Park sold to Apple Suites, an affiliate of the Richmond, Va.-based Apple Six Real Estate Investment Trust. Bernardo Ventures was the seller, according to Commercial Real Estate Direct , an online real estate newsletter.
The StayBridge Suites Hotel was sold to Trendwest Resorts, Inc., a subsidiary of Cendant Timeshare Resort Group, Inc., which plans to convert the hotel into a time-share property.
The seller, an affiliate of Shapery Enterprises , which is headed by San Diego hotelier Sandor Shapery, plans to build a 40-story, high-rise condominium complex on what is now the hotel's parking lot.
Opened in Downtown in early 2004, the hotel is in a 78-year-old building formerly known as the Riviera Apartments/Hotel. The condo tower and the time-share property will eventually share a "few select amenities," said Neptune Hospitality Advisors, a real estate investment banking firm, which arranged the sale.