Maritime Industry Contributions Need to Be Recognized
Monday, May 22, 2006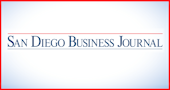 May 22 is National Maritime Day.
Congress created this day in 1933 to recognize our proud maritime heritage, honor the men and women who serve or have served as merchant mariners, and call attention to the many benefits that today's maritime industry provides.
For San Diego, this day of recognition comes at a critical time.
San Diego's marine industrial businesses, the "working waterfront," contribute 38,000 jobs and nearly $6 billion annually to our region's economy, more if you count the U.S. Navy. With all of its economic benefits, the Navy can only be in San Diego because it has the shipbuilding and repair businesses to support it. The Port of San Diego's marine terminals import cars we drive, food we eat and building materials for our construction industry.
Despite these contributions, too many San Diegans, including elected and appointed officials who approve land use plans, are not aware of the importance of these businesses and the unintended consequences of incompatible land uses.
For example, residential development too close to industrial businesses could force these businesses to make costly changes to their operations. In extreme cases, businesses could be forced out altogether to make way for waterfront condos and even a sports stadium.
Recognizing the importance of maritime industry is a national issue. This year, the U.S. Maritime Administration, supported by the Army Corps of Engineers, the National Oceanic and Atmospheric Administration, the Coast Guard, the American Association of Port Authorities, the Propeller Club of the United States and other maritime groups, has introduced an awareness campaign designed to focus national attention on the U.S. maritime industry.
Called "Maritime Matters," the campaign is helping to communicate the value of the maritime industry in relation to the economy, national security, jobs, environmental protection, agriculture, quality of life and recreation.
Locally, a coalition of maritime businesses, the Port of San Diego, San Diego Port Tenants Association, labor and environmental organizations has formed for the same purpose. The goals of the coalition, called the Working Waterfront Group, are to enhance San Diego's working waterfront as a vital part of the region's economy and quality of life; promote working waterfront jobs with family supporting salaries; continue strong support of San Diego's role as a Navy megaport; enhance the historic relationship between maritime dependent businesses and their neighbors; and continue environmental leadership along San Diego Bay.
According to the Port of San Diego, maritime trade through its two marine terminals is expected to grow by 15 percent annually for the next three years. Pasha Automotive Services, which processes one in 10 imported automobiles coming into the United States, has gone from handling 230,000 to 350,000 vehicles in the past year, and will soon begin exporting automobiles as well. The General Dynamics Nassco shipyard has more ocean-going ships under construction today than ever before and continues to expand its work force to meet the market demand. The working waterfront is thriving, but it can only continue to do so if its land is protected from encroachment.
The Port of San Diego recently went on record supporting a 1,000-foot transition area between industrial and residential land uses. This is a good start. Other agencies with land use authority also need to build transition areas into proposed projects that are incompatible with heavy industry.
San Diego's maritime industry, with its strong economic impact and high paying jobs, must be protected and allowed to grow. The Working Waterfront Group will continue to lead this charge, May 22 and every day of the year.
Ed Plant is co-chairman of the Working Waterfront Group, and Lee Wilson is a member. The Working Waterfront Group is a coalition of water-dependent businesses, the San Diego Port Tenants Association, Port of San Diego, AFL-CIO, and others committed to preserving the industry's contributions to the region's economy, environment and jobs.