First Community Grows Locally With Acquisition
Monday, May 22, 2006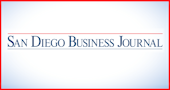 Sometimes timing is everything, and that appears to be the case in the sale of Escondido-based Community Bancorp to Rancho Santa Fe-based First Community Bancorp, the parent firm of First National Bank in San Diego.
On May 16, the two regional banks announced a deal to join forces, as the sellers decided the price was too compelling to pass by.
"We talked several times in the past several years," said Community Bancorp Chief Executive Mike Perdue. "They didn't put enough money on the table then. The price had to be right based on our performance."
First Community, which has been on an acquisition tear in recent years mainly in the Los Angeles area, upped the ante in March, prompting Perdue and Chairman Gary Deems to accept an offer of 0.735 per share of the First Community's stock for an aggregate $277 million based on its May 15 closing price.
"This is a deal that when you look at First Community, and look at us, and if we get together, it will mean 1 plus 1 equals 3," Perdue said. "The combination of our institutions will make more money, have higher earnings per share, and that translates to a higher stock price, and higher shareholder value."
The proposed transaction also translates to a whopping 4.5 times Community Bancorp's tangible book value of $9.13. When viewed as simple book value, including good will, First Community paid about 2.5 times book , less than the triple book price paid by Sacramento-based Placer Sierra Bancshares for Carlsbad's Southwest Community Bancorp, an acquisition that's scheduled to close next month.
Frank Mercardante, the CEO at Southwest Community, said the deal appears positive for both buyers and sellers.
"This is something that Gary (Deems) and Mike (Perdue) were probably strategizing to accomplish since they got in there. As a shareholder (of Community Bancorp), I'm pleased," Mercardante said.
Once the acquisition is completed after shareholder and regulatory approvals are given, which is expected by the fourth quarter, the combined First Community Bancorp would hold more than $5.3 billion in assets with 71 branches in Southern California.
In addition to First National Bank, First Community Bancorp operates Pacific Western National Bank, which has about $3.7 billion in assets and 45 branches.
Assessing The Future
First National Bank would assimilate Community Bancorp's $888 million in assets and 12 branches, creating a bank with about $2 billion in assets, 26 branches, and a total lending limit of about $25 million.
While there is some branch overlap in four cities , Escondido, Encinitas, Temecula and Vista , both banks said it's too soon to say which branches, if any, would close.
It's also too early to say how many jobs would be lost, although some positions will be eliminated, both banks said.
Upon consolidation, Perdue will take over as CEO of First National Bank, and current CEO Bob Borgman will become its chairman. Two Community Bancorp directors, Deems and Mark Baker, will join First Community's board of directors.
"This is a good fit for us," said First Community CEO Matt Wagner, speaking from his office in Los Angeles last week. "It fills us out in San Diego County down through the (Interstate) 15 corridor, and also takes us into Riverside County."
First Community Chairman John Eggemeyer started the company here in 1994 when he purchased a controlling stake in Rancho Santa Fe National Bank. But it wasn't until 2000 that he began to really grow the franchise, buying several Los Angeles banks. In 2002, the company acquired First National Bank for about $142 million.
In recent years, except for the small purchase of the Bank of Coronado in 2002, First Community's buying has been centered in and around Los Angeles. Its most recent acquisition, completed May 10, was Foothill Independent Bank, with about $750 million in assets and 12 branches.
The Community Bancorp acquisition came as a surprise to some bankers, who viewed Community Bancorp as a growing bank that wasn't looking to sell.
"I was kind of surprised at first. I didn't think Community National Bank (the subsidiary bank of Community Bancorp) wanted to sell," said Vince Siciliano, the CEO of 1st Pacific Bank of California. "I think they got a good price, but I also think First Community got a good buy."
Dwindling Market
Most bankers said they expect continued consolidation within the industry, but noted that the number of potential targets locally was diminishing.
"I don't think there's that many banks left that are of the size, between $250 million and $500 million, that they would be attractive (to an acquirer)," said Robert Horsman, the CEO at San Diego National Bank. "You may see some combination of some of the smaller banks, maybe one of those that aren't doing too well."
Wagner said there was nothing on First Community's plate in the immediate future, but the bank was always on the lookout for opportunities that make sense.
"We do deals opportunistically," he said. "If the deals are there, we'll pursue them. But it's getting to be pretty slim pickings (in San Diego)."
Most feel the spate of new banks formed here are not mature enough to draw the interest of a regional player such as First Community or City National Bank, and certainly not large enough for much larger national banks such as Wells Fargo, U.S. Bancorp or Comerica Bank.
About a week before the Community Bancorp deal was announced, St. Louis-based First Banks announced it was buying San Diego Community Bank, with only $72 million and three branches, for $175 million.
In Community National's case, the recent trend has been growing both through acquisitions of smaller banks and internal expansion. It purchased Santee-based Cuyamaca Bank in 2004, and last year acquired Rancho Bernardo Community Bank. Those two purchases added more than $200 million to its assets, but in the past year, it put on an additional $180 million to bring its total assets to $888 million as of March 31.
The bank has also racked up consistent earnings, and as of March 31 its return on average assets was 1.59 percent, up from the prior year's first quarter, when ROA was 1.49 percent. Nonperforming loans were a negligible 0.61 percent of the total portfolio, and after the government guaranteed portion is subtracted, 0.33 percent of total loans.
The numbers all boosted Community Bancorp's stock, traded on Nasdaq under CMBC, to about $35 for most of the past six months. About a week before the sale was announced, the stock jumped about $5. Taking First Community's May 16 price of $56.56, the offer translates to $41.57, about the price CMBC was trading on May 18.
Perdue said the price is really not important; the key is by combining with First Community, the earnings and stock appreciation in the future will be much stronger.
Holders of CMBC have already been well rewarded. Shares have appreciated 338 percent during the three years ended in December, according to Carpenter & Co., an Irvine-based investment-banking firm.
First Community also has a high performing stock, and gained 22 percent in the past 52 weeks. On May 18, it closed at $56.63 in Nasdaq trading, and has ranged from $43.50 to $61.65 in the past year.
Wagner confirmed his bank had approached Perdue in the past several times, but the talks never got serious. This time was different.
"We respect each other, and have known each other for years," he said. "It came down to the right timing and the right price for their shareholders, and it just happened to work."