Texas Firm to Build Liberty Station Hotels
Thursday, May 18, 2006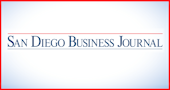 The Huntington Hospitality Group has paid $6.5 million for the right to develop two hotels at Liberty Station, the former Naval Training Center site in Point Loma.
According to the Corky McMillin Cos., Liberty Station's master developer, Huntington will develop a 200-room Courtyard by Marriott and a 150-room Hilton Homewood Suites, both of which will be on an 11.9-acre site on the southwest corner of Liberty Station.
The projects are expected to be completed in mid- to late-2007. While the land underlying the site is owned by the San Diego Redevelopment Agency, Huntington paid McMillin the $6.5 million to obtain a 66-year lease on the property.

The California Coastal Commission approved the hotels in concept in October.

A separate Liberty Station project calls for extensive renovations of the conference center and USS Recruit, a land-based Navy training vessel, in conjunction with the hotel developments.
Construction of the hotels also includes a piece of the waterfront esplanade, a path for walking and biking that will connect to NTC Park on the north and to the Harbor Drive pedestrian bridge on the south. The path will provide access to Spanish Landing and Downtown.
Based in Texas, Huntington Hospitality specializes in hotel development, hotel operations, financial management and construction management. It has developed more than $200 million worth of real estate in California and Maryland during the past six years.
Awbrey Cook McGill of San Diego is the architect for the hotels.
McMillin spokesman Greg Block said the company is close to naming a developer and operator for the 650-room hotel that will be constructed across the boat channel from the smaller hotels.
In total, the three hotels are expected to generate more than $3.2 million of annual hotel room tax revenues once they reach the point of stabilization in occupancy rates.
, Connie Lewis