Sempra Plans LNG Plant Expansion
Tuesday, May 16, 2006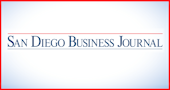 Sempra LNG, a unit of San Diego-based Sempra Energy, announced May 15 increased expansion plans for its liquefied natural gas terminal in Baja California, Mexico.
The offshore Energa Costa Azul terminal north of Ensenada will open in early 2008 with the capacity to handle 1 billion cubic feet per day of liquefied natural gas.

Sempra announced it received bids to build infrastructure for an additional 1.5 billion cubic feet per day of receiving capacity, bringing the total capacity to 2.5 billion cubic feet.
The second phase of the construction could be completed as early as 2010.
Natural gas is a clean-burning fossil fuel, and because of declining resources, liquefied natural gas is being tapped as an alternative resource. Last year, 3 percent of the total natural gas used in the United States was liquefied, but the U.S. Energy Information Administration anticipates an increase in use to 15 percent.
In its supercooled liquid form, natural gas takes up 600 times less space than in its gaseous state, making it easier to transport over long distances.
Sempra LNG President Darcel Hulse said the Energa Costa Azul receipt terminal will be the first of its kind on the West Coast of North America.
"We certainly are pleased with the strong market interest in our facility and look forward to finalizing commercial agreements," Hulse said.
Sempra spokesman Art Larson said all bids have been accepted for the project and the company is in the process of negotiating agreements.
"The ultimate size, scope and cost of Energa Costa Azul's expansion will depend upon the outcome of the negotiations for commercial agreements," according to a Sempra press statement.
Construction of the first phase of the terminal to develop 1 billion cubic feet per day capacity is more than 30 percent complete.
Sempra Energy is a Fortune 500 energy services company that produced revenues of $11.7 billion in 2005. The company has 14,000 employees worldwide and is traded on the New York Stock Exchange under the symbol SRE.
, Julie Gallant