Stepping Back in Time
Monday, May 15, 2006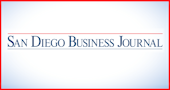 Sitting on the mantel above the fireplace in James Hagey's Kensington home is a black-and-white photo of him playing in a championship tennis tournament at Wimbledon at age 23.
He's looking up, racket pulled behind his head, ready to serve. It's a classic tennis shot taken at a place most aspiring pros hope to wind up, but only the best ultimately do.
A national amateur champion in 1974, Hagey was an NCAA singles finalist that same year and played at the world-famous Wimbledon courts in England three times.
"As a pro, I was ranked 71st in the world, so you see my career was downhill all the way," he said with a laugh.
Hagey, 53, doesn't boast about his days as a champion tennis player. He's more interested in talking about bringing "new urbanism" , a housing and commercial real estate development trend that replicates historic neighborhoods , to San Diego County.
On that topic, he freely expounds.
"A good real estate developer's threshold requirement is to ensure that his buildings make the world better," he said. "If his only goal is to make money, he's an awful person. Why? Because his buildings shape generations long after he's gone. Development, like medicine, gun-making and education, demands a great deal of responsibility."
Hagey, who founded Red Leaf Village Co. in 1999 to focus on "walkable communities," has put his money where his mouth is. He spent $1.1 million in 2000 to acquire 20 acres in Ramona on which he intends to build Elliott Pond, a neo-traditional community named after the prior owner of the tract who dug the pond.
Offices, Homes, Eateries
Within a year, he hopes to have all the necessary permits in place to break ground on the project's town square with its mix of commercial buildings, including offices with upper-story apartments, three sidewalk cafes, a fine-dining restaurant and retail shops. There will also be a cluster of townhomes and single-family detached homes patterned after I'On Village, a neighborhood in Mount Pleasant, S.C., built in the style of new urbanism.
The major cross streets for Elliott Pond are Ramona and H streets, about 250 yards south of Main Street in the downtown section of Ramona, which is about 45 miles northeast of Downtown San Diego.
"We're 50 yards south of what everybody calls the Stater Brothers shopping center and to the north is vacant land," he said. "There are three schools, an elementary, middle and high school, all to the south, on safe, walkable streets."
Aside from wanting to push the clock back before the days of urban sprawl, Hagey says Elliott Pond could jump-start economic development in Ramona.
"We want to attract employers so that eventually more people will be able to work in Ramona, and put very low mileage on their cars," he said.
According to Bill Jenkin, first vice president of the Ramona Chamber of Commerce, chairman of the Ramona Community Planning Group and the community's Economic Development Committee, 75 percent of employed Ramona residents commute to and from San Diego to get to their jobs.
While the county tallies Ramona's population at 35,000, Jenkin counts 45,000 and says the community intends to apply for incorporation in the next few years.
Meanwhile, the Ramona Community Planning Group makes planning recommendations to the county, which has the final say in commercial and residential development.
Something For Everyone
Without indicating whether the group would give Elliott Pond its thumbs up, Jenkin complimented Hagey on "listening to the community's desires on this."
To retain control over the commercial development of Elliott Pond, Hagey said he's considering maintaining ownership of the buildings that would house its restaurants and shops.
"That way, if someone comes in and opens up a successful T-shirt shop, there wouldn't 10 more T-shirt shops to follow," he said. "You need diversity to attract shoppers. The mix of stores might include a dress shop, ice cream shop, a malt shop, art gallery, beauty salon and barbershop. A bookstore is critical, perhaps even a video arcade.
"Everybody needs a third place. Home is first and work is second and they need a third, where they have no particular responsibilities. And just as importantly, I want the town square to draw all ages of people. I dream of seeing an old man playing checkers with a young person outdoors."
The project is expected to cost about $36 million to build. Plans call for 10 commercial buildings ranging in size from 1,000 to 4,600 square feet for the largest of the restaurants, as well as 52 single-family homes averaging about 2,700 square feet. There would also be two buildings, each with six 1,200-square-foot townhomes. To date, Hagey said he has spent some $600,000 on plans.
Some of the homes would be built on spec, while others would be custom built according to parameters set by the development. Lots are expected to sell for about $200,000, on average.
Built To Last
Hagey says he's less concerned about the amount of time it might take to recoup his investment than in "building something that will last, like I'On."
"I want people to see and discover that good places can still be built, that they don't all have to predate 1940," he added.
Nevertheless, Hagey expects that the quality of the buildings will attract tenants willing to pay higher than average lease rates.
"I expect a high lease rate," he said. "But I don't have any idea how much. I haven't made a call on that yet. As soon as we get approvals, we'll pre-lease as much of the commercial as we can. But I'd think that we can get lease rates that are 50 percent higher than the rest of Ramona."
According to Jenkin, Ramona's commercial lease rates range between $1.25 and $2 per square foot on average.
Howard Blackson of San Diego-based HB3 Urban Design: :Urban Planning, a proponent of new urbanism, says he thinks Hagey's plan is particularly viable since "Ramona is on a grid with alleys behind houses that front onto streets and some old buildings that shape the complexion of the streets."
"He wants to put the old DNA into the western part of Ramona, near Main Street, where people will get to stop and shop and live," Blackson said.
Seeking Approval
A couple of local bankers have already expressed interest in investing in the project, but Hagey can't go forward with securing funding until he has approvals in place. At present, plans go back and forth between Red Leaf Village Co. and the county's planners.
"When I talked with the bankers, they not only expressed an interest in financing us, they both asked, 'Can I buy one of the housing lots?' People want to live in real communities," he said.
Hagey has been involved in buying and selling land since 1986, when he acquired a 3-acre tract in downtown Atlanta.
"Back then I thought that was the smartest move in the world. But that's where I learned a lesson in liquidity," he added. "I bought it for $235,000 and it sold 12 years later for $975,000. Because of a squabble the National Park Service was having over an adjacent piece of land, I couldn't sell my piece for all that time."
He parlayed those earnings into purchasing the Ramona tract. With the help of a European-trained architect, Krisztina Szathmary, and Karina Bania, a designer, he operates out of offices in a converted garage behind his Kensington home.
After a brief stint with a real estate brokerage in Atlanta, Hagey returned to California to work for his father in the family's La Jolla-based real estate company, Hidden Valley Partners, in 1987. His father, Robert Hagey died in 2000, but the company continues and James and some of his seven siblings still buy and sell real estate throughout the county.
Szathmary and a team of architects, who specialize in new urbanism, including Andrew Cogar of Historical Concepts of Atlanta, are contributing designs for Elliott Pond.
Yet most of Hagey's ideas have come from his travels to other areas, particularly Georgetown, in Washington, D.C., and Charlottesville, Va., as well as small towns throughout the Midwest. This summer, he plans to visit Stevens Point, Wis., where tree-lined streets and homes with front porches define the center of the city.
"Elliott Pond will not be a gated community," he said. "People like to see other people. We envision them walking and bicycling past stores and shops and houses with front porches.
"Front porches deter crime by putting eyes on the streets. This will be a safe, walkable community."