San Diego Businessman Has Street Smarts
Monday, May 15, 2006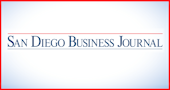 James Hagey, the president of Red Leaf Village Co., got hooked on "walkable communities" in 1987 after reading an article in
Atlantic Monthly Magazine
about a master planned community in Seaside, Fla., with its cobblestone streets and Victorian-style homes that was the first manifestation of the new urbanism development trend.
"At that time, it was the first walkable community that had been built in 50 years," he said.
Hagey has proposed Elliott Pond, a $36 million mixed-use development of commercial buildings and homes on 20 acres he owns in the North County community of Ramona, as a model of new urbanism.
Since the Florida development, a sprinkling of other U.S. communities, such as I'On Village in Mount Pleasant, S.C., built in the style of new urbanism, which basically borrows from traditional neighborhoods dating back before the 1940s, have captured the attention of the press and the building industry.
Key to the concept, Hagey says, is street widths of about 24 feet with parking on at least one side versus 36-foot-wide streets found throughout most suburbs today.
The narrower streets are safer for pedestrians and traffic because they inherently force cars to slow down. And they're also a boon to commercial areas because people are more apt to stop and spend money if they drive more slowly and get a closer view of stores, shops and eateries, he stressed.
'As Charming As Sewers'
He compares today's suburban streets to sewers.
"They're like sewers that get the most amount of material through as fast as possible, and they're about as charming as sewers," he said. "But ask people to name the cities or places they like the best and they'll usually name older communities, ones with narrow streets."
Hagey complained that most civil engineers and agency planners wrongly assume that wide streets are safer than narrower ones. On the contrary, he said, wider streets increase the likelihood of drivers exceeding speed limits and endangering pedestrians and other motorists.
Howard Blackson, who heads HB3 Urban Design: :Urban Planning, agrees with Hagey.
"City streets and places should not be built at scales in keeping with the speed of cars," Blackson said. "You need to build at the scale and speed of people."
Using North Park as an example, Blackson said businesses in general have fared better along University Avenue than on El Cajon Boulevard because University is narrower.
"Streets that are small and narrow and congested are not a bad thing for retail, because people have to drive around and look for parking and that makes things happen," he added. "You don't want to get rid of narrow streets because then nobody stops to spend money or time.
"Take strip malls. People pull in, park, dash into a store to get whatever they need, then jump back in their cars and leave. They don't spend time walking around."
A Lesson In Slowing Traffic
One of the first and most important projects the El Cajon Community Development Corp. undertook to spur business in that city's downtown after the agency was created about 10 years ago was to narrow Main Street from four to two traffic lanes.
Claire Carpenter, the president and chief executive officer of the organization charged with revitalizing downtown El Cajon, said, "What happened was that people were driving too fast and were going through here and not to here."
Angled parking added on both sides narrowed the streets. Wedge-shaped extensions off the sidewalks were also created and some of downtown El Cajon's restaurants use them for curbside patio dining.
Blackson said he expects the county will eventually adopt new codes on street widths.
Hagey thinks that could take awhile, adding that he'll follow the dictates he's given on building Elliott Pond.
Yet he hopes to build more neo traditional developments and he'll continue to push for narrower streets.
"Great neighborhoods have narrow streets," he said. "But building narrow streets today is illegal. The code writers think drivers are robots and won't avoid head-on collisions. Haven't they ever been to the older, residential areas of La Jolla?
"The wide streets we now build are worse than just charmless. They're actually more dangerous. That's why speed bumps are often needed. You don't see speed bumps on narrow streets."