Qualcomm, Microsoft Have New Pact
Friday, May 5, 2006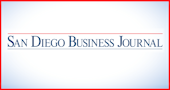 San Diego-based Qualcomm Inc. is combining its hardware with Microsoft Corp.'s software to expand their positions in a growing wireless telephone market.
The deal integrates Qualcomm's Mobile Station Modem chips into Microsoft Windows Mobile 5.0 software, and allows mobile carriers to expand product offerings with new technologies that increase speed and power on the devices.
Qualcomm and Microsoft announced their collaboration May 4, although both firms declined to disclose information about investments in their technologies.
The product is still in the testing phase, but by 2007 operators of networks should be able to offer mobile devices, such as cell phones and personal digital assistants, with the combined technologies.
John Starkweather, group product manager in Microsoft's mobile and embedded devices division, said the Windows mobile system has been used in cell phones for several years.
At least 47 mobile device manufacturers have been shipping Windows mobile phones with 115 mobile operators in 55 countries. The growing number of "smart phones" being introduced in the market is driving innovation among handsets, he said. The collaboration between Qualcomm and Microsoft developed with the intent to serve the increased demand for Internet, music, video and gaming capabilities on mobile devices.
Integrating Qualcomm's chips with Microsoft software allows wireless phones to be manufactured more quickly at a lower cost, Starkweather said. Consumers will be able to watch television on their mobile devices without hiccups or delays in the video programs, and can access games with 3-D graphics on their mobile phones.
"There's really a change in this industry," said Starkweather, commenting that Qualcomm and Microsoft have been working together for more than five years in wireless technologies. "You're finally seeing a lot of smart devices become available, and people are buying them. The fast networks, the applications, the longer battery life are all coming together and this is the right time for this partnership."
Phone manufacturers would design their own devices that incorporate the two companies' dual-processor solutions in smaller, lighter phones.
Luis Pineda, the senior vice president of marketing and product management for Qualcomm CDMA technologies, said device manufacturers will be able to design "smart phones" that offer a familiar Windows environment. The mobile version of the software supports Microsoft Outlook, Internet Explorer, Office and more than 18,000 other titles.
Integrating Qualcomm's chips also extends the battery life of cell phones and other devices and makes them more affordable to mobile users, he said.
"This makes it much more cost-effective and easier for device manufacturers to offer greater functionality, while also allowing products to be smaller, thinner, lighter and more power-efficient," Pineda said.
Qualcomm is expected to begin offering support for Windows Mobile 5.0 on Convergence Platform Mobile Station Modem chips during the second half of 2006. Smart phones using the Mobile Station Modem chips and Microsoft Windows Mobile 5.0 software would be available in 2007.
Qualcomm is a Fortune 500 company that develops digital wireless communications products and is traded on the Nasdaq under the symbol QCOM. Qualcomm stock rose nearly 60 cents in regular trading May 4 , also the day Qualcomm executives met with analysts in New York , closing at $52.34. The company stock continued to climb to $52.59 on May 5.
Redmond, Wash.-based Microsoft is a global software and solutions provider traded on the Nasdaq under the symbol MSFT.
, Julie Gallant