Construction Journal
Monday, May 1, 2006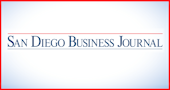 Grubb & Ellis/BRE Commercial has announced that improvements have been completed at the Ash Street Business Center in Vista.
Cost: Unavailable.
Business owner: Sea Breeze Vista, LLC.
Managers: Sea Breeze Properties and Ascend Realty Services.
Sales, leasing and marketing: Barry Hendler and Mike Erwin.
- - -
Graham Downes Architecture has designs under way for the construction of a 441,000-square-foot, multifamily residential development on a 5-acre site in Las Vegas.
Cost: $40 million.
Project developer: ADG Development.
Design team: Graham Downes, principal in charge; Vaki Mawema, chief designer and project manager; Paz Martinez, designer.
- - -
Johnson & Jennings General Contracting has completed tenant improvements for the 25,213-square-foot offices of Zenith Insurance on Hazard Center Drive in San Diego.
The firm relocated to the new offices from its previous location at 1660 N. Hotel Circle Drive.
Cost: $923,000.
Building owner: PM Realty Group.
Project manager: Jim Lohnes.
On-site superintendent: Lupe Gomez.
Subcontractors: Best Maintenance, Casper Co., Trimm Woodworking, Inc., Spring Valley Insulation, McBride Door & Hardware, Xtreme Glass, Inc., Best Interiors, Inc., B & B; Acoustics, Howard's Rug Co., Quality Painting & Wallcovering, Inc., Specified Products, Inc., Standards of Excellence, Siemens Fire Safety, Western Fire Protection, Inc., Cass Plumbing, Comfort Systems USA, and Dynalectric.
- - -
Sudberry Development Inc. has begun construction on Village Walk at EastLake, a 162,000-square-foot upscale retail development located in the master-planned community of EastLake in Chula Vista.
Cost: Unavailable.
Architect: Fehlman LaBarre Architecture and Planning.
Civil engineer: Stuart Engineering.
Landscape architect: Nowell & Associates.
- - -
Sully-Jones Roofing Co. has completed re-roofing of the Nations Rent commercial building in San Diego.
Cost: $105,000.
Commercial project manager: Ben Scales.
Send news of contract awards and construction commencement and completion for the Construction Journal to pbroderick@sdbj.com . Please include the address, contractor, architect, square footage and cost.