Confidence in Local Economy Prompts Office Market Demand
Monday, May 1, 2006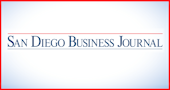 Prognostications and first-quarter reports continue to trickle in.
Grubb & Ellis/BRE Commercial reports that, during the first quarter of 2006, San Diego's office market experienced a strong demand for space due to improved business confidence resulting in corporate expansion.
By the end of the first quarter, overall vacancy in San Diego increased slightly to 8.4 percent due to the rise in supply. However, the majority of the sub-markets maintained vacancy rates below 10 percent, despite the 240,000 square feet of newly constructed space that has come on-line countywide in 2006.
More tidbits:
- Demand was 406,529 square feet, marking the 14th consecutive quarter of positive absorption.
- Supply (under construction) was 2.9 million square feet, up 2 million square feet from the first quarter of 2005.
- Average asking rental rates continue to rise, up 10 percent for Class A space, and 7 percent for B space in the past 12 months.
Meanwhile, for the second consecutive year, San Diego County apartment sales prices set a record, reaching an all-time high average price-per-unit of $177,189, up 6 percent from last year and up 143 percent since 2001.
"The unprecedented demand for units for conversion to condos has driven apartment sales prices to unprecedented highs," said George Carlson, vice president and apartment specialist with Burnham Real Estate.
"However, the rate of price increases is slowing, as investors look for the market to undergo a price correction," he said. "Following the rapid run-up in prices over the past four years, the market is due for a cooling period that will return it to a more balanced and efficient state."
According to Carlson, the market climate today is "very different" than the early 1990s, when cap rates were about 8 percent, with interest rates in the 8 percent to 9 percent range, resulting in poor cash flows, given the high sales prices.
"In the more recent period, strong investor demand pushed prices to record highs, with cap rates in the 4 percent to 5 percent range, and interest rates in the 5 percent to 6 percent range," he said. "The one common thread between the market today and that of 15 years ago is high pricing, which by current indicators warrants a correction to restore balance."
- - -
ULI Initiatives: Promoting sustainable development and public infrastructure funding were recently named the top goals in 2006 of the Urban Land Institute San Diego/Tijuana chapter.
The ULI, with more than 700 members in San Diego and Tijuana, is a nonprofit organization that provides leadership in the responsible use of land.
"Our growing region is faced with many land-use challenges that require public education and proactive leadership if we hope to thrive in the future," said Mary McLellan, the chairwoman of the local ULI chapter.
Also in the works is a ULI grant initiative to "study creative ways that communities can finance public facilities and infrastructure to set the stage for future 'smart growth' development, while addressing existing deficiencies," said Bill Anderson, the public infrastructure chairman for ULI.
The initiatives are supported by 29 sponsoring companies, including founding member sponsors Allen Matkins, Burnham Real Estate, Douglas Wilson Cos., Foley & Lardner LLP, Grubb & Ellis/BRE Commercial, LJG Partners and San Diego Smart Growth Fund.
- - -
Big Deals: La Costa Towne Center in Carlsbad has sold for $38.5 million to La Costa Tower Fund, LLC, an entity controlled by BlackRock Realty Advisors, Inc.
The seller was Azure Investors, LLC, based in St. Louis. Richard Lebert and Mark McEwen of Colliers International represented both the buyer and seller.
Built in 1981, the neighborhood shopping center, which sits on 15.2 acres at the intersection of El Camino Real and La Costa Avenue, features 92,464 square feet of retail space and 28,471 square feet of office. Anchor tenants are Vons and Wells Fargo Bank.
Cushman & Wakefield has acquired San Diego Corporate Real Estate Advisors, a member of the Cushman & Wakefield Alliance.
The purchase price was not disclosed.
The new operation will serve as the San Diego branch office of Cushman & Wakefield.
San Diego Corporate Real Estate Advisors was formed in 2001 by Stephen Rosetta, a former Cushman & Wakefield senior director. Cushman & Wakefield is among the world's largest privately held real estate services firms, with 192 offices in 58 countries.
Equastone, a real estate investment firm, has announced the sale of 925 B Street, a 66,000-square-foot office building in Downtown San Diego, for $13.1 million.
The seller was an affiliate of Equastone Value Fund I, and the buyer was Kurt and Jenny Listug. Tim Winslow and Scott Diggs of Grubb & Ellis/BRE Commercial represented Equastone in the transaction.
In July, Equastone acquired the property, formerly the corporate offices of Chicago Title, for $10 million.
The two-building, 7,384-square-foot International Shops, at 1237 Prospect St. in La Jolla, has been sold for $6.2 million.
The buyer was 1237 Prospect, LP, and the seller was 1237 La Jolla Land Partners, Ltd.
Built in the early 1960s, the buildings are fully occupied, housing such tenants as DK Maltin Jewelers, La Dolce Vita restaurant, and Deli-licious.
Phil Wise of Colliers International and John Drummond of Capital Growth Properties represented the buyer, while the seller represented itself.
- - -
Who's On First: Home buyers have a chance to buy a piece of San Diego history, along with a Craftsman-style home, in a redevelopment called Heritage on First.
Located in the heart of Hillcrest on First Avenue, the Heritage is billed as "a one-of-a-kind" condo development. The builder is Del Mar Heritage, LLC, which also recently completed projects in Pacific Beach, Escondido and Balboa Park.
The centerpiece of the Heritage , a mix of 25 condos and town houses , is a historic Craftsman bungalow, originally built between 1912 and 1915 and listed in the county's historic property data file. The homes are expected to be priced from the $400,000s to the $900,000s.
The project is scheduled to open in early summer.
- - -
Change Of Address: NAI San Diego, a full-service brokerage company, has relocated its corporate headquarters to spiffy new digs at 123 Camino de la Reina, Suite 200 South, in the Golden Valley Office Park in Mission Valley.
The firm relocated from the Mission Grove Office Park at 1565 Hotel Circle S., where it will continue to provide leasing and management services.
Send residential and commercial real estate news to pbroderick@sdbj.com or via fax at (858) 571-3628.