Chicken Helps Fatten Jack's Bottom Line
Monday, May 1, 2006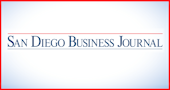 Bobby Kittel, a manager at a Downtown fitness club, says he eats at Jack in the Box at least once a week because it's convenient and open around the clock.
"It's the closest fast food restaurant to my house. I live in South Park," he says. "And when I come Downtown, it's the first fast food restaurant I see."
He particularly likes Jack's chicken sandwiches. But with the looming threat of the avian flu virus reaching U.S. shores, he said he'd probably avoid eating chicken if it does arrive.
"I'd hope Jack in the Box would take extra care about how it's dealing with poultry and purchasing," Kittel said. "But bird flu killed hundreds of thousands of people in the early 1900s. So if it comes here, I don't think I'd want to eat chicken."
Skittish customers like Kittel could pose a serious threat for San Diego-based Jack in the Box, which introduced several chicken dishes recently as part of a five-year plan to fatten its bottom line by turning its attention from males between the ages of 16 to 36 , its target market , to focus more on women and older health-conscious consumers.
Three years into the new plan, the lighter but more expensive array of salads and sandwiches added to the traditional burger lineup has helped fuel growth and reshape the company's image into a healthier fast-food chain.
Saying Nothing And Everything
Typically tight-lipped, Jack in the Box executives did not return repeated phone calls for this story. But fiscal year reports, which show that earnings stood at $91.53 million in 2005 compared with $83.04 million in 2002, when the company was in the midst of a costly burger war with industry giants McDonald's and Burger King, and announced its new strategy, say a lot.
Jack in the Box is still shy, however, of the $100.26 million in net earnings reported in 2000 before the economic downturn that followed the terrorist attacks of Sept. 11. Jack in the Box's fiscal year concludes in early October.
For the quarter ended in January, the company reported that revenue was up 11 percent, beating Wall Street odds, but that earnings, which edged lower on a legal charge, were off by less than 1 percent to $25.2 million vs. the same year-ago period.
Jack in the Box, which has its headquarters on Balboa Avenue in Kearny Mesa, owns and franchises more than 2,050 fast-food restaurants in 17 states, mostly in California. Its subsidiary, Qdoba Mexican Grill, has more than 270 restaurants in 39 states. Jack in the Box also operates 50 Quick Stuff convenience stores.
Individual shares in the company, traded on the New York Stock Exchange under the symbol JBX, closed at $42.39 on April 26, down 61 cents a share from the day before.
Industry expert Dennis Lombardi, the executive vice president of food strategies for Columbus, Ohio-based WD Partners, a restaurant and design firm, said he doubts Jack in the Box will see sales drop due to fears about chicken consumption.
"It's true that in places where avian flu has hit, especially in Europe, sales of chicken have dropped dramatically," Lombardi said. "But that doesn't mean it's going to happen in the U.S."
He believes an effective education process will lead people to understand that "you don't get this flu from eating properly cooked chicken."
Different Circumstances Here
Consumers, Lombardi stressed, should be made aware of the fact that since U.S. poultry production is more contained and not as apt to be exposed to wild birds, as are farms in Asia and Europe, there's less likelihood it will spread to chicken farms in this country.
"So the issue then becomes whether consumers misinterpret the danger of avian flu in the bird population and stop eating chicken," he added. "Again, that's largely a function of education and the press plays a loud role.
"For instance, if a news story reports that someone ate chicken and died, that's bad. But if they report that the death was not related to cooked chicken, unfounded fears won't develop. The U.S. population will take cues and gain perceptions from the information available and that comes back to where the risks are. People eat pork and they're conscious about trichinosis, so they make sure pork is cooked. They eat fish containing mercury and they know to limit their consumption."
In a worst-case scenario, however, chicken consumption could drop. Yet Lombardi expects that companies such as Jack in the Box would employ a contingency plan to provide additional menu options to shore up any decline in sales of chicken products.
"You'd probably find Jack in the Box adding a bacon, lettuce and tomato or pulled pork or barbecue sandwich," Lombardi said. "Chicken is a very important protein and it's been effective in boosting the company's sales, but it's not the only one out there."
Jack in the Box may already be on the trail of adding options since it recently announced a couple of new fish dishes: a sandwich with two fried filets, lettuce and tartar sauce and fish and chips , three filets and fries served in a basket with a side of tarter sauce and malt vinegar.
"Variety is very important to our guests," Teka O'Rourke, director of menu marketing and promotions stated in a company press release. "And our menu items featuring fish are tasty options for consumers looking for an alternative to burgers and chicken sandwiches."
Similar Situations
Analyst Mark Sheridan, who covers Jack in the Box for investment firm Johnson Rice & Co. of New Orleans, said given the benefit of time and distance from the spread of avian flu abroad, Americans will gain a better perspective on its dangers and not react as fearfully as European consumers.
He likens the current situation to that of mad cow disease, the first case of which was reported in the U.S. in late 2004.
"People understood by then that it was not a contagion of muscle meat, but one that comes from the brain or spinal tissue," he said. "Avian flu in humans is rare but they are able to get it and I don't think Americans will overreact.
One potential problem, however, is that if chickens do become contaminated from the wild bird population, they will be slaughtered in droves, as happened when hoof and mouth disease hit cattle herds in Europe several years ago.
"That could negatively impact the production and supply of chicken and prices could go up. But stocks can be replenished quickly in eight weeks or so vs. 18 months for beef stocks, so it would not be a big deal."
Sam Borgese, chief executive officer of the Carlsbad-based Catalina Restaurant Group, which acquired the Coco's and Carrows chains in 2002, said he fears consumer reaction to eating chicken "could affect us all in the industry."
"I think it's a bit ahead of the curve to see what impact there will be," Borgese said. "But fish is a good alternative to chicken. Any white fish that's mild and has good texture and can be breaded would support a lack of chicken as a protein alternative."
Steve Zolezzi, executive vice president of the Food & Beverage Association of San Diego, believes restaurant chains nationwide "have contingency plans in play to address public safety and well being, as well as investors' interests."
"They have the ability to pull products from their menu at any time," Zolezzi said. "And I will tell you that any responsible company has contingency plans for potential problems. If the public has lost confidence in poultry, they will control their menus and adjust what they sell.
"I will not stop eating poultry. But there's still a need to be cautious and if someone sees a dead bird they should call city or county health departments and report it.
"The press, meanwhile, needs to be careful not to do the 'what bleeds leads' kind of reporting that scares the public."
Experts say consumers who eat properly cooked chicken are not at risk of catching bird flu, even from an infected bird. Since 2003, avian flu has reportedly killed 113 people, mainly farmers and others who have had direct contact with infected or dead foul.
More recently, the virus has spread to Europe and Africa. Experts predict that it could reach the East Coast by this summer. Meanwhile, consumers abroad are avoiding chicken. Ironically, much of it is exported from the United States.