Callaway's New Executive Asks Analysts to Be Patient
Monday, May 1, 2006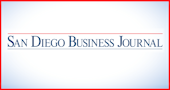 Sales were flat but net income was up during the first quarter at Carlsbad-based Callaway Golf Co.
The company , which makes and markets golf clubs, balls and accessories under several brand names , reported first-quarter net income of $22.9 million, or 33 cents per diluted share, on net sales of $302.4 million.
In the year-ago quarter, Callaway had net income of $18.3 million, or 27 cents per share, on net sales of $299.9 million.
Callaway announced the results after the close of the market April 26. Its stock, traded on the New York Stock Exchange as ELY, closed April 27 at $15.94, up from the previous day's close of $15.83.
George Fellows, Callaway's president and chief executive, told listeners on an April 26 conference call that he felt positive about the first-quarter results, though he acknowledged a "disappointing reaction" to Callaway's "pre-release" announcement.
Callaway's stock suffered an 8 percent drop April 12, the day after the company warned analysts that earnings would be in the range of 34-36 cents per share, excluding charges. Analysts surveyed by Thomson Financial had expected 48 cents per share.
Fellows urged analysts to take a longer view , that is, three years , rather than a quarter-by-quarter view of the company. Sales growth targets for a three-year stretch are "in the midsingle digits," he said, adding that he was reiterating guidance the company provided a few months ago.
Fellows said a business such as Callaway, dependent as it is on new products and the timing of shipments, can be very difficult to forecast precisely.
Forecasting in the near-term will get easier as the company settles in to new business processes, he added.
"We're progressing quite comfortably against the three-year guidance that we did give a few months ago," said Fellows, the former Revlon Inc. executive that Callaway's board hired in August. He succeeded William C. Baker, who took over the chief executive's job following the 2004 resignation of Ron Drapeau.
Overseas Issues
In addition to Callaway products, the Carlsbad company markets gear under the Top-Flite, Odyssey and Ben Hogan brands.
During the conference call, Chief Financial Officer Brad Holiday said the company took a $6 million hit in the first quarter from foreign currency conversion. Forty percent of Callaway's sales are in foreign countries.
At another point, Fellows said energy costs were putting pressure on Callaway. Electricity cost the company $2 million during the first quarter, he said. Fellows added that the cost of petrochemicals and rubber put pressure on the golf ball operation. He told investors that the company has locked in its energy needs for the rest of the year, and made "opportunistic buys" on rubber.
Earnings for the recently ended quarter were 36 cents per share when calculations excluded charges for employee stock compensation (2 cents per share) and the integration of the Top-Flite operation (1 cent per share).
Callaway bought Top-Flite Golf Co. at auction in September 2003 and has since been working to fold the two companies together.