Tons of Food, Flights of Fancy
Monday, March 27, 2006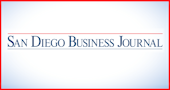 A dozen San Diego designers competed March 22 at the Newschool of Architecture and Design on F Street, assembling structures using only cans, tape and foam-core board to "defy the laws of gravity," according to sponsor Torrey Pines Bank.
The 2006 charity event yielded nearly 50,000 pounds of food for needy families in San Diego County.
The brainchild of the Society for Design Administration, in association with the American Institute of Architects and allied professional organizations, the contest takes place in about 50 cities across North America.
In San Diego, participants were Delawie Wilkes Rodriguez Barker, Carrier Johnson, DCI Engineering, HMC Architects, Island Architects, Leary Childs Mascari Warner, Newschool of Architecture and Design, Oliver McMillan, Platt/Whitelaw Architects, RJC Architects, SDSE and Studio E Architects.
, Pat Broderick