S.D. Firm Partners With Arm & Hammer Maker
Monday, March 27, 2006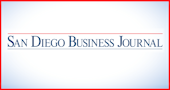 A local diagnostic firm known for its flu test and the company of Arm & Hammer baking soda fame are partnering in the field of women's health.
San Diego's Quidel Corp. announced this month it is partnering with Princeton, N.J.-based Church & Dwight Co., Inc.
The two have signed a cross-licensing agreement, settling pending intellectual property litigation related to lateral flow technology for the over-the-counter market. The companies did not disclose the amount of the agreement.
The first aim of the partnership, the companies said, will be to expand Church & Dwight's First Response Early Result Pregnancy Test Kits into "one or more emerging markets within women's health."
Quidel's stock, which trades as QDEL on the Nasdaq, closed up 8 cents at $11.76 on March 20.
The company reported a net loss of $9.3 million for 2005 compared with $6.3 million for 2004. It has around $35 million cash on hand, slightly less than this time last year.
Church & Dwight, which trades on the New York Stock Exchange as CHD, had sales of about $1.7 billion in 2005.
- - -
Big Pharma Partners With Biosite: San Diego-based Biosite, Inc., known for a 15-minute portable test for congestive heart failure, signed an agreement last week with pharmaceutical giant Eli Lilly and Co. to further study Lilly's federally approved drug, Xigris. The firms did not disclose the amount of the agreement.
Xigris is approved to help reduce death in adult patients with severe Sepsis, a disease that can develop as a complication from pneumonia or bacterial infections.
Biosite will develop a rapid, point-of-care diagnostic test that can measure Protein C levels. Lilly will employ the Biosite test, and existing FDA-approved Protein C tests, in a clinical trial to begin in the fourth quarter. The aim is to determine proper dosage for specific individuals.
Biosite's heart failure test is used in 50 percent of hospitals nationwide, according to the company. Biosite has about 900 employees and trades as BSTE on the Nasdaq stock exchange. On March 21, Biosite stock was trading at $51.31, up 40 cents.
- - -
Nanogen Sells Stake To Fisher: Hampton, N.H.-based Fisher Scientific International, Inc., a distributor of scientific equipment and instruments, has purchased 5.7 million shares of Nanogen, Inc. common stock for $15.1 million.
Nanogen, a San Diego-based company focused on point-of-care, rapid diagnostic tests, reported it will use the proceeds from the sale for working capital, acquisitions and general purposes.
Fisher also purchased Worcester, Mass.-based Athena Diagnostics, Inc., for $283 million. Nanogen and Fisher will collaborate to expand the use of Athena's proprietary markers and diagnostic assays.
Nanogen, which trades as NGEN on the Nasdaq stock exchange, was trading at $2.37 on March 21, down 1 cent.
- - -
San Diego Technology Boosts Company: Technology developed by the former San Diego company X-Ceptor is propelling a South San Francisco firm, Exelixis, as it announced a deal with Japan-based Sankyo Co. worth $20 million this month. Exelixis purchased X-Ceptor for $26 million in cash and stock in October 2004.
Exelixis and Sankyo will develop new therapies that slow down cardiovascular and metabolic disease growth. The technology to be employed comes directly from X-Ceptor, the companies reported.
Contact Katie Weeks with biotechnology news at kweeks@sdbj.com , or call her at (858) 277-6359.