Hospitality Has a Healthy 2005 in North County
Monday, March 27, 2006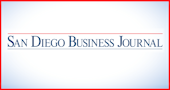 While San Diego enjoyed a healthy bump in its overall tourism numbers last year, North County did a bit better.
During the San Diego North Convention & Visitors Bureau's "Hospitality Industry Outlook" presentation, Cami Mattson, the organization's president and chief executive officer, said North County's total visitor spending in 2005 was $1.7 billion, up 8 percent from 2004. That compares with $5.8 billion for the county as a whole, an increase of 5.4 percent.
"The hospitality industry experienced an overall positive year in 2005, and anticipates steady, upward momentum as we head into 2006," Mattson said. "Last year, despite a sluggish start, the industry wrapped up with a solid finish." The county experienced a record amount of rain during the fall of 2004 and the first quarter of 2005.
The outlook event, which celebrated the bureau's 30-year history, drew about 250 people to the Hilton San Diego Del Mar on March 16.
North County, which includes La Jolla north to take in Encinitas, Carlsbad and Oceanside and east from Escondido, Fallbrook and Julian to Borrego Springs, generated $59.3 million in hotel room tax, an 8 percent increase from 2004, Mattson said.
At present, San Diego County counts 54,190 hotel rooms, while North County has about a third of that inventory, or 18,644.
According to Mattson, the bureau was responsible for generating $24.2 million in leisure visitor spending in 2005. Additionally, its group sales amounted to $9.6 million, resulting in a total economic impact of $33.8 million.
The bureau also saw a year-over-year 34 percent hike in inquiries from leisure visitors to reach a total of 195,500 in 2005. At the same time, its Web site usage rose 38 percent to 175,000 hits.
- - -
Still On The Upswing: The pace of increased passenger tallies at Lindbergh Field slowed a bit in January, comparing a low single-digit hike to those in the high single digits seen monthly throughout 2005. However, the international passenger count continues to soar.
In January, 1.28 million people flew in and out of Lindbergh Field , up 3.1 percent compared to the same month a year ago. In 2005 monthly increases of 6 percent and 7 percent were the norm. The count of international passengers during January stood at 17,936, for an increase of 34.4 percent. But of that sum, 44.2 percent or 10,009 fliers were people coming into Lindbergh from foreign countries.
Freight hauling by aircraft continued a slight downward trend, comparing 12,005 tons in January to 12,210 in the same year-ago month.
The number of aircraft operations, or takeoffs and landings, rose 1.6 percent to 18,114. However the total for major commercial airlines was off 0.2 percent. This is indicative of a nationwide trend toward fewer jets flying certain routes. However, they are being filled to capacity, vs. the years immediately following Sept. 11, when more jets flew with fewer passengers. Meanwhile, the commuter jet tally at Lindbergh Field rose 4 percent and that of military aircraft was up 61 percent.
- - -
Elusive Little Critters: The Birch Aquarium at Scripps Institution of Oceanography is touting "Grunion Run Fun," an early summer series that includes a lecture and a film , so the uninitiated know what to look for , followed by a moonlight fishing expedition. Actually, grunion are caught by hand. Nets and holes are verboten.
The grunion runs are scheduled for April 15 from 9:45 to 11:45 p.m.; April 30 from 10:30 p.m. to 12:30 a.m.; May 15 from 9:45 to 11:45 p.m.; and May 28 from 9:30 to 11:30 p.m.
The females come ashore at various times during high tides to bury themselves in the sand and lay eggs, while males wrap themselves around the females to fertilize the eggs. Both then catch a wave to return to sea , or not.
They are often left stranded following certain high tides. The silvery little fish don't always show up as expected, but Scripps is probably pretty good at judging when they'll beach.
The fee for a grunion run is $12 for adults and $9 for children ages 6-13. Anyone older than 16 is required to have a fishing license. Flashlights and jackets are recommended. Reservations must be received in advance by calling the aquarium at (858) 534-7336.
Directions to the location will be given at that time.
While the fun of a grunion run is mostly in the catching, they are allegedly edible. One recipe calls for cleaning and scaling, dusting with flour, salt and corn meal and frying them up in a pan. They may be consumed whole like a sardine, or split open to remove the bones.
Send tourism and hospitality news to Connie Lewis at clewis@sdbj.com . She may also be reached by phone at (858) 277-6359.