Fill 'er Up With Hydrogen Soon Coming to S.D.
Monday, March 27, 2006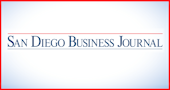 Camp Pendleton is on board with the state's plans for developing a network of hydrogen fueling stations that will support energy-efficient autos by 2010.
A $1.4 million hydrogen fueling station and maintenance facility is scheduled to open this fall at the sprawling Marine Corps base in North County. Construction is scheduled to start in mid-June and be completed by late summer.
General Motors Corp. spokesman Dave Barthmuss said the military has a keen interest in developing alternative fuel technology as a way to save money associated with transferring fuel, as well as consuming fuel in heavy equipment and while transporting personnel and goods.
"One of the major expenditures is getting fuel to the battlefield," Barthmuss said. "They're paying $400 a gallon from a military perspective. This will be a tremendous benefit for them."
Another benefit, he said, is that the hydrogen fuel doesn't produce as much heat as a gas-powered engine.
"So the military can operate more stealthily in the field," he said.
Camp Pendleton's station will join 22 other hydrogen fueling stations operating in California that form the beginning of a network of fueling stations planned in part by the California Fuel Cell Partnership. The 32-member group of organizations, companies and government agencies from across the state work together to promote the commercialization of hydrogen fuel-cell vehicles.
Planning is tied to Gov. Arnold Schwarzenegger's vision for a Hydrogen Highway Network that will ensure Californians have access to hydrogen fuel as a renewable energy resource along the state's major highways by 2010.
Eight leading auto manufacturers are involved in the partnership and are using the stations while they test their hydrogen fuel technology with demonstration vehicles. The 126 fuel-cell passenger cars and nine fuel-cell transit buses are driven on California roads to test the technology for potential market uses.
Hydrogen is being considered as an alternative source of fuel for vehicles because of its energy-efficient and environmentally friendly qualities.
Twice The Power
When used in a fuel cell, hydrogen has twice the energy efficiency of an internal combustion engine and creates no harmful emissions, according to partnership officials.
The benefits of using hydrogen and fuel cells include no tailpipe emissions other than water and heat. Hydrogen produces less carbon emissions than gasoline, because it can be produced from renewable resources such as biomass, solar, geothermal and wind power.
The hydrogen fueling station that opened March 17 in Burbank was the sixth new facility to become operational within the last two months, said the partnership's director of communications, Chris White.
"A whole flurry of them opened recently," she said. "It was a coincidence they opened at about the same time. All of them had been planned for a period of time."
The California Hydrogen Highway Network has a goal of 50 to 100 hydrogen-fueling stations to be operating in the state by 2010. The stations are needed to supply fuel to up to 300 fuel-cell vehicles, including passenger vehicles and transit buses, that will be traveling the state's roads by then.
The locations of the existing hydrogen fueling stations are tied to the locations of fleets of fuel-cell vehicles that are being driven for testing purposes.
"These vehicles are being first deployed in fleets," said White, identifying the city of Chula Vista and UCLA as two local fleets. "They all go back to the same garage or home at night. They're not being used for overnight trips or as consumers would use them."
White said the Hydrogen Highway Network calls for developing stations mainly in the greater Los Angeles area, the San Francisco and Sacramento areas and also in San Jose.
"It's a well-traveled corridor," she said. "Very much like greater San Diego."
Gary Funk, region fleet manager for the U.S. Marine Corps Southwest, said Camp Pendleton is one of only two military installations in the country that will have a hydrogen station. The other is at the Army's Fort Belvoir in Virginia.
Camp Pendleton's station will be connected to the hydrogen highway near the base's front gate off Interstate 5. Private vehicles will have access to the fueling station in about five years, Funk said.
Limited Run
Initially, the station will be used to fuel a modified Chevrolet Silverado on base that's been converted to run on a fuel-cell system.
Used for administrative purposes, the truck generates electricity by running hydrogen through a fuel cell stack, according to GM spokesman Barthmuss. When the hydrogen combines with oxygen, it creates electrons that generate an electric current, Barthmuss said.
The Silverado was tested by the Army at Fort Belvoir before it was transferred to the Marines at Camp Pendleton for further testing last year.
General Motors is working toward developing a fuel-cell system that can compete with internal combustion engines by 2010. Within the next decade, GM hopes to sell commercially viable vehicles in the showroom.
In the meantime, the company is pursuing various hybrid systems and just unveiled a hybrid sport utility vehicle in Detroit, Barthmuss said.
"By 2007 we will have three different hybrid systems on 12 of our most popular models," he said.
GM also produces 400,000 flex vehicles a year that can run on either regular unleaded gasoline or a fuel called E85 that runs on 85 percent ethanol and 15 percent gasoline.
Massachusetts-based Ztek Corp. will build the hydrogen fueling station at Camp Pendleton. The Navy and Ztek will share the construction costs.
Ztek has plans to build similar stations along Interstates 5 and 405 and state Route 73, according to Ztek President Michael Hsu. And the company is involved in similar projects in Northern California that would essentially connect Los Angeles to San Jose on the Hydrogen Highway Network, Hsu said.
Adding To The Mobility
Funk, who manages the Marine Corps fleets in the Southwest, said Camp Pendleton provides the concrete pad to operate the station and coordinates the availability of natural gas and electricity with San Diego Gas & Electric Co. Although the station will be mounted when placed on the pad, it has the flexibility to be moved to another site where utilities are available.
"It's not like a gas station with 10,000-gallon tanks buried underground," Funk said. "There are leak detectors on this, but they're built into the system so when you move the module, everything goes with it."
The Camp Pendleton station will be able to produce 30 kilograms of hydrogen per day and have the capacity to store 60 kilograms. Funk said they'd like to be able to expand the pressure inside the storage tanks from 5,000 to 10,000 pounds per square inch at some point to enable the vehicles to drive longer distances. At 5,000 psi, the cars can be driven about 130 miles before refueling. At 10,000 psi, the cars can be driven about 70 miles more.
"The more volume you have, the further you can go," he said.
Safety has been a big concern in locating a hydrogen fueling station at Camp Pendleton, and almost a year was spent studying the environmental impacts. Funk said the study involved fire and safety departments, archaeological and historic groups, and nearby communities were notified.
The U.S. Department of Energy's National Environmental Policy Act Program was involved in the studies. Funk said its studies concluded that a person exposed to a hydrogen blast standing 50 feet away would probably be picked up and thrown to the ground. The impact of a blast from a distance of 300 feet would be enough to crack a window, he said.
Funk said an explosion at a gasoline station with liquid fuel stored underground would be greater than an explosion caused by 100 kilograms of hydrogen.
"That (hydrogen) would dispense in the atmosphere so quickly the damage would be minimal compared to a gasoline station," Funk said. "Everyone involved in this is completely comfortable that this is a safe thing and the right thing to do."