Scripps CEO's Passion Leads to State Appointment
Monday, March 20, 2006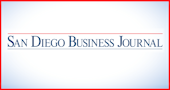 Gov. Arnold Schwarzenegger has named Scripps Health President and Chief Executive Officer Chris Van Gorder to the state Commission on Emergency Medical Services.
Van Gorder, who started his career as a police officer in Los Angeles County, has managed to simultaneously run a $1.6 billion nonprofit health system while staying connected to his roots in public safety through volunteer work.
He is a reserve lieutenant with the San Diego County Sheriff's Department in charge of the Search and Rescue Medical Unit, where he has faced risky undertakings , including a recent successful helicopter hunt for hikers who got separated and lost in rough terrain.
In the recently appointed unpaid position, Van Gorder, 53, will help the commission advise the California Emergency Medical Services Authority, which operates statewide emergency medical care, including paramedic services.
Van Gorder fell into health care after an on-the-job police injury resulted in a lengthy hospital stay. He talked that same hospital into giving him a clerking job , the first rung on his ascent up the health care ladder. Van Gorder met his wife at a subsequent hospital where he was employed.
"I look back at one of the most negative times of my life, and losing my job as a police officer and being injured, and it turned out to be one of the best things to happen to me," Van Gorder said.
The CEO also finds time to teach Cardiac Pulmonary Resuscitation for the American Red Cross, Scripps and the Sheriff's Department.
In 2005, he formed a medical response team and Office of Disaster Preparedness at Scripps, which has five hospitals. He led 70 physicians, nurses and support staff to Houston at the request of the U.S. Public Health Service to provide medical aid to displaced survivors of Hurricane Katrina.
Today, Van Gorder is also a member of the California Hospital Association Board of Directors' Executive Committee and immediate past chairman of the Hospital Association of San Diego and Imperial Counties.
When he joined Scripps six years ago, Van Gorder said employee relations were "lousy." In recent years, though, the organization was recognized by AARP as one of the best companies to work for , for employees older than 50.
The governor announced Van Gorder's appointment March 13.
- - -
La Maestra Expands Offerings: La Maestra Community Health Center has launched a $10 million capital campaign to help fund a new 32,000-square-foot health care facility in City Heights.
It will allow the center, at Fairmount Street and University Avenue, to serve 25,000 new patients, or 30 percent more people, according to the clinic.
La Maestra is part of the county's Council of Community Clinic network of several health centers that offer health care on a sliding scale for low-income patients.
The facility will be built using environmentally friendly practices, the clinic announced, and when completed in May, it will offer primary medical care, dental care, pharmacy, nutritional education and screening programs, as well as food pantry, housing assistance and job training and placement.
- - -
Pharmaceutical Supply Channels Under Scrutiny: Some drug companies and the Sacramento-based National Association of Chain Drug Stores have requested that the state delay implementing safeguards on the supply chain of pharmaceutical drugs.
Passed by the state Legislature in 2004 and scheduled to take effect in 2007, the law will prohibit the sale, trade or transfer of prescription drugs without a pedigree.
But companies such as Thousand Oaks-based Amgen, Inc. have faced challenges in developing an electronic way of demonstrating a drug's movement from producer to consumer, according to documents from the California Board of Pharmacy Enforcement Committee.
The board was expected on March 16 to discuss moving the implementation date to January 2008.
The chain drugstore trade group, representing more than 3,100 California pharmacies, voiced its concerns to the board in a letter saying it was especially worried that a 2007 deadline would close generic drug makers out of the market.
"The majority of generic drug manufacturers operate on very slim profit margins," wrote the organization's president, Bill Dombrowski. "Many of them have not even started to think about providing an electronic pedigree."
The intent of the law is to prevent tampering, diversion and counterfeiting of prescription medicines, industry members say.
AstraZeneca Pharmaceuticals, Inc., based in Sacramento, also supported a one-year delay.
Contact Katie Weeks with health care news at kweeks@sdbj.com , or call her at (858) 277-6359.