San Diego People
Monday, March 20, 2006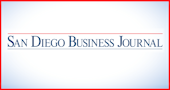 Executive Spotlight: Teri Hudson
Teri Hudson has joined Pacific Coast National Bank as senior vice president and Small Business Administration loan administrator. She will direct SBA loan activities in the bank's Orange County and San Diego County service areas. "Teri Hudson's experience in SBA lending will provide the expertise and know-how we need to assure that our clients get the loan that's right for them," said Michael Hahn, the president and chief operating officer at Pacific Coast. Hudson has more than 25 years of SBA lending experience and most recently managed SBA departments at several regional banks. She has spent 10 years with the U.S. SBA and four years as an SBA lending instructor.
Banking and Finance
Lunette Laureles has joined the audit department of Lavine, Lofgren, Morris & Engelberg LLP. She will focus on the firm's tax practice in the high-tech and manufacturing industries.
Construction and Design
DBM Contractors, Inc. has hired Forest Badeaux and Rick Walsh. Badeaux will manage the office and equipment yard as well as run the overall operations for the region and Walsh will be responsible for project/development. PrimeCo Painting has promoted Frank Esquivel and Iris Giron to assistant project manager. Esquivel will be serving San Diego County clients and Giron will be serving Orange County clients.
Health Care and Biotech
American Specialty Health has hired Robert Crocker as chief medical officer. He will be responsible for the development of medical management programs and products as well as oversee the company's clinical service operations. Most recently, Crocker served as national medical director and senior vice president for WellPoint. Ambit Biosciences has announced the appointment of Nicholas Lydon, David Armistread and Ed Roberts to its scientific advisory board. Lydon and Wendell Wierenga have joined Ambit's board of directors.
High-Tech and Manufacturing
Dixon Doll, founder and managing partner of Doll Capital Management, has joined Coradiant, Inc.'s board of directors. Terry Ryan has joined Science Applications International Corp.'s Intelligence and Security Group as senior vice president for strategic development. Most recently, Ryan served as president and director for SRA International's C4ISR Center. Testing Engineers San Diego Inc. has appointed Dave Wozniak to construction materials testing and special inspection manager. Wozniak has 22 years of construction management experience and most recently was with GeoTek Inc. Dale Wedge Jr. has been appointed president of Aztec Imaging. Wedge joined the company in 1981 and has served as vice president of sales for the past 10 years. Ian Moores has joined Psomas as an assistant engineer. He will be responsible for the evaluation of drainage requirements for the alternative sites being evaluated for the San Diego County Regional Airport Authority's future regional airport.
Law
Liz Mackres, firm administrator for Casey Gerry Schenk Francavilla Blatt & Penfield, has been elected secretary of the board of directors of the Association of Legal Administrators for the 2006-2007 term. Attorney Howard Susman has joined Stoel Rives. His practice focuses on the renewable energy industry. "We are thrilled to have Howard joining our team in the resources, development and environment practice group," said Peter Mostow, the chairman of the firm's renewable energy team. Most recently, Susman was a partner of Duckor Spradling Metzeger & Wynne.
Media and Marketing
Jon Dupuis has been promoted to vice president, director of client management for NYCA. Dupuis has been with the company for four years.
Government and Nonprofit
San Diego Mayor Jerry Sanders has nominated Peter Davis and V. Wayne Kennedy to the board of administration of the San Diego City Employees' Retirement System.
Miscellaneous
Alex Montoya has joined Latino relations with the San Diego Padres as director. Most recently, Montoya served as communications director at the San Diego County Hispanic Chamber of Commerce. The Meeting Manager has hired Mike Guadagno as senior operations manager. He will be responsible for managing and executing event programs. Most recently, Guadagno was director of operations for Quantum Productions, Inc. Entriq has hired Jan Hofmeyr as executive vice president and Stephen Condon as vice president of marketing. Hofmeyr will be responsible for the strategic growth through fostering business relationships. Most recently, he spent seven years with Microsoft Corp. Condon will be responsible for the company's overall marketing strategy and the management and direction of all marketing programs. Most recently, Condon served as chief marketing officer at Intertainer. InstaPrep Space LLC has hired Harold Mindlin as director of sales and marketing. He will spearhead all consumer and trade sales, marketing, promotions and brand development. Most recently, Mindlin served as executive vice president of Oreck Corp.'s Commercial Sales Division.
Real Estate
William Lyon Homes has named Dawn Parent-Ostrem community sales manager for the company's newest neighborhood. She has more than 15 years of real estate experience and was with Presley Homes as a community hostess. NAI San Diego has promoted Larry Edwards to senior vice president and Doug Ceresia to vice president. Edwards has 25 years of commercial real estate experience and Ceresia has more than nine years of commercial real estate experience. Faith Hussey has joined Re/Max Coastal Properties as a real estate sales agent.
Awards and Recognition
Eric Garner, Best Best & Krieger LLP's managing partner, has been named California Lawyer of the Year in the environmental law category by California Lawyer magazine. The cities of Escondido and Poway have been awarded the California Redevelopment Association Award of Excellence for their successful redevelopment projects. Architectural Concepts, Inc. has been honored with two Silver Awards in the American Resort Development Association Awards Program.
Philanthropy
Majors and Fox law firm has donated $100,000 to the Gary W. Majors Fund for the Homeless.
, Compiled by Stacey Bengtson