Vons Gets Berth at Liberty Station
Wednesday, March 15, 2006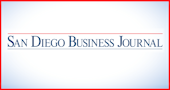 The newly signed Vons and Postal Annex will be joining Trader Joe's at Liberty Station Marketplace, which broke ground March 15 , part of the $850 million mixed-use redevelopment of the former Naval Training Center in Point Loma.
Hosting the event was Marketplace developer C.W. Clark, Inc., based in La Jolla, and the San Diego-based Corky McMillin Cos., which is building the 361 acres of prime bayside property, in collaboration with the San Diego Redevelopment Agency.
McMillin was given the right to lease and sell some of the land to offset the cost of the redevelopment. The site now includes, or will include, a 46-acre public park and promenade, residences, offices, schools, recreation facilities and hotels. Build-out is expected by 2008.
Clark, which said it has preserved the historic buildings on the site, is developing more than 160,000 square feet in the project. According to a company spokesman, Clark also has letters of intent with a restaurant, coffeehouse and retail operations, but declined to name them.
A major shopping center developer, Clark has more than $200 million in commercial, hotel and urban residential real estate development under way in San Diego County, Arizona and Oregon.
, Pat Broderick