City Sees Billion Dollar Headache
Wednesday, March 15, 2006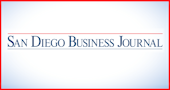 March 17 will mean the wearing of the green for St. Patrick's Day celebrants, but for the city of San Diego, it will mean finding out how much it will be required to pay into its troubled pension system in fiscal 2007.
Also that day, the city's new actuary is expected to update the amount of the pension deficit, which now is quoted as being at least $1.4 billion. Once that's determined, Mayor Jerry Sanders is expected to put together a proposed budget and present it to the City Council on April 14. It's been a rocky road.
On March 14, the troubled pension system became more troubling, when Sanders announced at a press conference that the city is nursing a $1 billion liability for retiree medical benefits, based on a newly released report by Towers Perrin.
Sanders said he intends to work with his staff, the City Council and the city attorney to find solutions.
He listed three possible options:
- To pay the annual required contribution, plus the current health-care costs for active city employees , $156 million in fiscal 2006 alone.
"Clearly, this is not an option that I believe is available to the city," said Sanders.
- Continue the "pay as you go" strategy, plus the current health-care costs for active city employees, which is costing the city about $57 million in fiscal 2006.
- Negotiate benefits that the retirees receive.
"This would require a greater contribution on the part of the city, but over time, it would also hopefully lessen our obligation," said Sanders.
The mayor also said during the press conference that, "A valuation study like this should have been done years ago by the city's top managers. The decision-makers were not well served in that they did not know the value of the healthcare benefits the taxpayer would be asked to pay."
In an e-mail message sent March 14, Diann Shipione Shea, the whistle-blower who served on the San Diego City Employees' Retirement System board, agreed.
"It was done years ago," she wrote. "Nobody paid attention because it wasn't in anybody's best interest to pay attention. These retiree health liability numbers have been around for over a decade. Projections have been run and rerun."
City Council President Scott Peters bristled at the criticism, saying, "San Diego has had a lot of things we have had to do. We've had to provide services. It's not easy."
Peters added that, "This retiree health-care problem is being faced by cities and counties around the country. Health-care costs are going way up. The mayor and City Council are dealing with the problem, and deserve some credit for that."
Meanwhile, Peter Preovolos, retirement system president, said that he was "encouraged" by Sanders' "responsible approach to understanding and beginning the financial planning process for this important benefit."
Preovolos added, "It seems as though both (the retirement system) and the city of San Diego are working hard to identify not only what the true liabilities are, but also to re-define the areas of responsibility for each organization.
"Mayor Sanders took a bold step in not only looking at the current liability, but commissioning an actuarial study of the future liability. Hopefully, in the future, all decisions about the creation and funding of pension benefits will be thoughtfully examined."
Judie Italiano, president of the 6,000-member San Diego Municipal Employees Association, in a message posted on her union's Web site, said, "It is the first time we have really seen what the health-care costs will be in the future. While this is a huge number and comes at a time when the city has many other financial problems , MEA commends the city's new administration for stepping out in front of this issue so a solution can be found to deal with the payment of benefits.
"MEA's negotiating team made an agreement with the city to work on the unfunded health-care benefits during the life of our current contract, and this report will give us a good start as we look at methods of funding for future benefits."
, Pat Broderick