Van Gorder Lends Emergency Expertise
Monday, March 13, 2006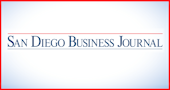 Gov. Arnold Schwarzenegger has named Scripps Health President and Chief Executive Officer Chris Van Gorder to the state Commission on Emergency Medical Services.
In the unpaid position, Van Gorder will help the commission advise the California Emergency Medical Services Authority, which operates statewide emergency medical care, including paramedic services.
Van Gorder will call upon years of involvement in disaster planning. He began his career as a police officer in Los Angeles County and is a reserve lieutenant with the San Diego County Sheriff's Department in charge of the Search and Rescue Medical Unit.
In 2005, he formed a medical response team and office of disaster preparedness at San Diego-based Scripps, a nonprofit, private health system with five hospitals. He led 70 physicians, nurses and support staff to Houston at the request of the U.S. Public Health Service to provide medical aid to displaced survivors of Hurricane Katrina.
Van Gorder is a member of the California Hospital Association board of directors' executive committee and immediate past chair of the Hospital Association of San Diego and Imperial Counties.
The governor announced the appointment March 13.
, Katie Weeks